World of Warcraft: Dragonflight - The Loop
Play Sound
Zapdos (サンダー, Sandaa) is an Electric/Flying-type Legendary Pokémon introduced in Generation I. It is part of the Kanto Legendary Birds, along with Articuno and Moltres. In Generation VIII, exclusive to The Crown Tundra, Zapdos has a Galarian Form that is a Fighting/Flying type.
Biology
Physiology
Kantonian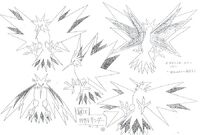 Zapdos is an avian Pokémon with predominantly yellow plumage. Black rings encircle its eyes, and it has a long, thin, light orange beak. Its wings and tail are a mass of spiky feathers, with black feathers covering the back of its wings and inner tail feathers. A large crest of spiked feathers surrounds its head. Its thighs are a khaki color, and it has anisodactyl feet ending in talons.
Galarian
Galarian Zapdos is an avian Pokémon with predominantly orange plumage. It has long legs, strong "zygodactyl" feet (possessing two toes in front and two toes in yellow), and a large dark bill. Its wings and tail are a mass of spiky feathers, with black feathers covering the back of its wings and inner tail feathers. A large crest of spiked feathers surrounds its head, its thighs are a black color.
Behavior
Kantonian
When Zapdos flaps its glittering wings, it releases electricity that can potentially cause thunderstorms. It produces massive crackling and snapping sounds when it flies; these are attributed to the lightning bolts it sheds when airborne. When stricken by lightning, it gains power. Zapdos reportedly appears only during thunderstorms, and is said to live among thunderclouds. However, it is rarely seen.
Galarian
Once every several decades, this migratory Pokémon appears in the Crown Tundra. For a long time, it was thought to be the same Legendary Pokémon as the Zapdos previously discovered in other regions. This belligerent, battle-hungry Pokémon seems unable to resist challenging Pokémon it senses may be stronger than itself.
Natural Abilities
Kantonian
This Pokémon can control storms and lightning at its own will, which can subsequently change the weather drastically. This causes people to worship it as the God of Thunder.
Galarian
In battle, this Pokémon overwhelms opponents with speedy movements and ferocious kicks using its naturally mighty legs. When it leaps down cliffs and rocky mountainsides in ultra-high-speed zigzag movements, it is said to resemble a bolt of lightning. However, its wings seem to have atrophied, and it appears to be a poor flier.
Game info
Game locations
Side game locations
Pokédex entries
Stats
Kantonian Form
Zapdos's Stats
HP
Attack
Defense
Sp. Atk
Sp. Def
Speed
Total

580
Galarian Form
Zapdos's Stats
HP
Attack
Defense
Sp. Atk
Sp. Def
Speed
Total

580
Learnset
Leveling
Kantonian Form
Galarian Form
TM/TR/HM
Kantonian Form
Galarian Form
Breeding
Zapdos learns no moves via breeding.
Tutoring
Sprites
Appearances
Anime
Zapdos first appears in the anime in the episode Island of the Giant Pokémon. Its first major role was in the second movie.
Zapdos was also the driving cause of Ash's Noivern's evolution.
A Zapdos appeared in A Crackling Raid Battle! where Ash and Goh battled it in a raid battle.
Mystery Dungeon
In Red and Blue Rescue Team and Rescue Team DX, Zapdos is the first legendary to appear in the original Pokémon Mystery Dungeon game, when it kidnaps Shiftry in Silent Chasm, and is fought against on Mt. Thunder. It can be recruited after the credits.
Trivia
Zapdos, as depicted in an ancient legend, is the titan of lightning.
Zapdos appears to have two sets of wings, stating it has a black part and a yellow part.
Of all Legendary Pokémon with fixed in-game locations, Zapdos can be obtained with the fewest number of Badges: 3. In the Generation I games and their remakes, the player character can catch Zapdos with only the Boulder Badge, Cascade Badge, and Soul Badge.
Zapdos shares its category with Elekid and Electabuzz. They are all known as the Electric Pokémon.
Zapdos and Jolteon's Japanese names are almost exactly the same as each other's, with a final "s" being the only difference.
Zapdos possesses a type advantage over all other members of its trio, as well as its trio master, Lugia.

Conversely, its Galarian form has a type disadvantage to the rest of its trio.

In the anime episode The Bridge Bike Gang, Chopper's bike was decorated to look like a Zapdos.
In Super Smash Bros. Melee, Zapdos is one of the Pokémon that can be freed from Poké Balls. During this time, it uses the move Thunder Shock.

It is briefly seen in Prism Tower's stage for the 3Ds version.
The description breaks the fourth wall by mentioning The Power of One movie.
Zapdos, alongside Articuno and Moltres, is one of the collectable spirits in Super Smash Bros. Ultimate.

It's Shiny Galarian Form has it's Kantonian form's color scheme.
Origin
Zapdos may be based on the Native American or South African legend of the thunderbird. The thunderbird was known for being the spirit of thunder, lightning, and rain in the form of a giant bird. The beating of the wings was said to create thunder and was usually depicted in a pose similar to Zapdos' pose in many artworks. It may also have been based on the lightning bird, a bird created from wherever lightning hits the earth. Aesthetically it may also be based on hummingbirds, due to the long beak, the rather simple wings and described violent behavior. It may also be based on Zeus/Jupiter, the Greek/Roman god of lightning, who was symbolized by an eagle.
Galarian Zapdos is based on a roadrunner. Although it's capable of flight, it prefers to spend most of its time on the ground. It could also be based on Macha, an avian Irish goddess associated with war and sovereignty. Alongside Nemain and Badb, it was also represented as a triple goddess named Morrigan. It may also be based on a Chocobo, a fictional ground-dwelling bird species from the Final Fantasy series that is typically yellow.
Physically, Galarian Zapdos resembles a ratite bird, and its design resembles that of a Kiwi.
Etymology
It is likely that the last part of each birds name are puns, because the last syllable of each of the Legendary Birds is a number in Spanish (ex. Articuno, Zapdos, Moltres). Zapdos would then be the second Legendary Bird of the trio.
Gallery
Kantonian Form
Galarian Form
See also
Regional forms
Kanto

·
·
·
·
·
·
·
·
·
·
·
·
·
·
·
·
·
·
·
·
·
·
·
·
·
·
·
Johto
·
·
·
·
Hoenn
·
Unova
·
·
·
·
·
·
·
Regional form evolutions:
Kalos
·
·
Alola
·
·
·
·
·
·
·
·
·
·
·
·
·
·
·
Regional form evolutions:
Galar
·
·
·
·
·
·
·
·
·
·
·
·
·
·
·
·
·
Regional form evolutions:
·
·
·
·
·
Evolutionary Line