Yungoos (ヤングース Yanguusu) is a Normal-type Pokémon of the Alola region.
Biology
Physiology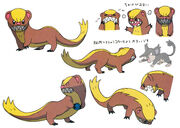 Yungoos is a long-bodied mongoose-like Pokemon with yellow stripes on its brown coat, a patch of fur on its head resembling a toupee, and a mouth filled with large pointed teeth.
Behavior
Because of its long body, Yungoos always gets hungry and they eat without manners. It roams around all day searching for prey (Rattata in particular) but at nightfall quickly loses all stamina and falls asleep.
A diurnal creature, Yungoos was introduced to Alola to deal with the invasive Rattata. However, as they hunted during the day the Rattata became nocturnal to avoid the new daytime predator.
Natural abilities
Being a normal-type Pokémon, it possesses no special abilities. However, it tends to bite.
Evolution
Yungoos evolves into Gumshoos at level 20 in the morning.
Game info
Locations
Pokédex entries
Sun

With its sharp fangs, it will bite anything. It did not originally live in Alola but was imported from another region.

Moon

It wanders around in a never-ending search for food. At dusk, it collapses from exhaustion and falls asleep on the spot.

Ultra Sun

Its stomach takes up most of its long torso. It's a big eater, so the amount Trainers have to spend on its food is no laughing matter.

Ultra Moon

Although it will eat anything, it prefers fresh living things so it matches down streets in search of prey.
Stats
Yungoos's Stats
HP
Attack
Defense
Sp. Atk
Sp. Def
Speed
Total

253
Learnset
Leveling
TM
Breeding
Breeding

Generation VII

Move
Father
Power
Accuracy
PP
Type
Category
Fire FangUSUM
Arbok, Growlithe, Arcanine, Flareon, Snubbull, Granbull, Houndour, Houndoom, Donphan, Mightyena, Exploud, Manectric, Hippowdon, Stoutland, Darumaka, Darmanitan, Litleo, Pyroar, Litten, Torracat, Incineroar
65
95%
15

Fire

Physical

Ice FangUSUM
Arbok, Snubbull, Granbull, Piloswine, Mightyena, Exploud, Walrein, Floatzel, Hippowdon, Glaceon, Mamoswine, Stoutland
65
95%
15

Ice

Physical

Last Resort
Eevee, Vaporeon, Jolteon, Flareon, Espeon, Umbreon, Leafeon, Glaceon, Sylveon, Aipom, Ambipom, Phanpy, Pachirisu, Lillipup, Herdier, Stoutland, Minccino
140
100%
5

Normal

Physical

Revenge
Zangoose, Weavile, Oshawott, Dewott, Samurott, Bouffalant
60
100%
10

Fighting

Physical

Thunder FangUSUM
Arbok, Arcanine, Jolteon, Snubbull, Granbull, Houndoom, Donphan, Mightyena, Exploud, Electrike, Manectric, Shinx, Luxio, Luxray, Hippowdon, Stoutland
65
95%
15

Electric

Physical

Bold indicates this Pokémon receives STAB from this move.
Italic indicates an evolved or alternate form of this Pokémon receives STAB from this move.
* indicates this move requires chain breeding.
◊ indicates the father must learn this move in a previous generation.
♈ indicates the father must learn this move via a TM.
Tutoring
Sprites
Anime
Trivia
Origin
Yungoos is based on a Javan mongoose, a species of mongoose imported to Hawaii to stop rats from eating sugar cane crops, similarly to how Yungoos were introduced to the Alola region to control Alolan Rattata and Alolan Raticate.
Etymology
Yungoos and its Japanese name, Yanguusu, come from young and mongoose.
Names in other languages
This section is completely EMPTY!
Please help the Pokémon Wiki by expanding it.
Gallery