Roblox: DeepWoken - The Loop
Play Sound
Yanmega (Japanese: メガヤンマ Megayanma) is a Bug/Flying-type Pokémon introduced in Generation IV.
Evolution
Yanmega is the evolved form of Yanma. Yanma can be evolved into Yanmega as soon as it learns the move Ancient Power or levels up while knowing the move.
Game Info
Locations
Side Game Locations
Pokédex Entries
Stats
Yanmega's Stats
HP
Attack
Defense
Sp. Atk
Sp. Def
Speed
Total

515
Learnset
Leveling
TM/HM
Breeding
To see the Egg Moves that Yanmega can learn, refer to Yanma.
Tutoring
Sprites
Appearances
Manga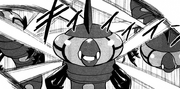 In the Pokémon Adventures Manga, a gang of Yanmega attacked Professor Rowan's assistant at the lab.
Anime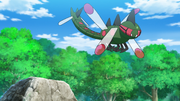 Trivia
Yanmega and its pre-evolution are one of only a few insect-based Pokémon to have six legs like real insects.
Origin
Yanmega is based on a dragonfly, more specifically a green darner, with elements of Meganeura (a genus of extinct giant dragonflies, hence why Yanma can only evolve if it knows Ancient Power). The extra wings on its tail, combined with its regular wings, give it the appearance of a helicopter, as dragonflies, like helicopters, can hover, fly backwards and sideways, and turn in midair.
Etymology
Yanmega and Megayanma come from 蜻蜓 (yanma, darner dragonfly), mega (big, may also mean "million"), Meganeura, and possibly omega.
Gallery
See also