Fire Emblem Warriors: Three Hopes - The Loop
Play Sound
Yamper (ワンパチ, Wanpachi) is an Electric-type Pokémon introduced in Generation VIII. It evolves into Boltund at level 25.
Biology
Physiology
Yamper is based on the Corgi, a breed commonly attributed to the UK (Welsh Corgis, the royal Corgis). It shares the chubby body and short legs with the Corgi, but its face more resembles the Boston Terrier. Its underbelly and paws are white, while its top half is light tan. It has a small, lightning-bolt shaped tail. The insides of its ears are green and yellow, as are its eyes. It has a large patch of yellow fur around its neck. It has two small, visible fangs on the bottom of its mouth.
Behavior
Yamper have a habit of chasing running and moving things, ranging from humans and other Pokémon to moving vehicles.
As they can't store much electricity in its organ, this can explain their tendency to roam around with crackling electric sparks.
Yamper follow and obey people only because they want treats, according to their Shield Dex entry. However, this doesn't affect their popularity in Galar as shepherd dogs.
Natural abilities
Yamper can generate electricity from the base of their tails.
Game info
Game locations
Pokédex entries
Sword

This Pokémon is very popular as a herding dog in the Galar region. As it runs, it generates electricity from the base of its tail.

Shield

This gluttonous Pokémon only assists people with their work because it wants treats. As it runs, it crackles with electricity.
Stats
Yamper's Stats
HP
Attack
Defense
Sp. Atk
Sp. Def
Speed
Total

270
Learnset
By leveling up
By TM
By TR
By breeding
Template:Movesbreedingen d
By tutoring
Yamper learns no moves via tutoring.
Sprites
Appearances
Anime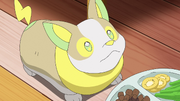 A Yamper appear in the anime where it belongs to Professor Cerise and his family but has a special attachment towards Chloe. Yamper first appeared in "Legend? Go! Friends? Go!" Where Ash and his Pikachu arrives at the Cerise Laboratory.
Trivia
Yamper shares its species name with Growlithe, Lillipup, and Rockruff. They are all known as the Puppy Pokémon.
Along with Impidimp, it was first shown in the E3 2019 demo before being officially revealed.

However, unlike Yamper, Impidimp was never revealed officially prior to the release of Sword and Shield.

Despite its Pokédex entry in Shield, Yamper cannot have Gluttony as an ability.
Origin
Yamper is based on a Pembroke Welsh Corgi puppy. It may also be based on either the Raiju, a mythical lightning beast in Japanese mythology, which is known to take the shape of a wolf or dog. It may take some inspiration from the black dog, an English myth that is known to be seen during thunderstorms.
Etymology
Yamper might come from yap, a dog noise, scamper, to run around, and ampere, a measurement of electricity.
Gallery
Template:GenVIIInav