Rules
No spam.
No harassment.
Don't bring off-wiki drama.
Other than that, you're fine! Just be nice, because they're watching you…

Welcome!
Welcome to Pokémon Wiki, and thank you for your contributions, there's a lot to do around here, so I hope you'll stay with us and make many more improvements.
| | |
| --- | --- |
| Things you can do: | Pages to visit: |
Reply
I'm currently working on designs, but thanks for being interested. I can update you when I start uploading the designs. TheWikiOddish (talk) 15:33, June 22, 2019 (UTC)
Thank you
Thank you for the offer. I can put in my Fakemon, but don't take credit for them. TheWikiOddish (talk) 21:24, July 5, 2019 (UTC)
Reply
I never said that I was taking credit for them. Anybody is allowed to add Fakemon, just as long as they are their own creations. The rules say not to add Fakemon that are not yours unless you get permisson first.
Mozart999 (talk) 21:47, July 5, 2019 (UTC)
Re: Hey
Darn. I got rebranded again! - Jr Mime (talk) [VSTF] 20:30, July 7, 2019 (UTC)
Sword and Shield Pokedex Entries
you are right, it best to wit until the games release to the the info sorry for this. Lego Master BB  6:24, July 21, 2019 (UTC)
But just to let you Know I'm only setting up the tabs for the entries, just to be a little more easy to put when the games are released. hope that's OK. [User talk:Lego Master BB| Lego Master BB]]  6:57, July 21, 2019 (UTC)
You can keep the templates there for later.
22:59, July 21, 2019 (UTC)
Page
Why did you create a page just to only tag it for deletion? It was already deleted.--Lordranged7 (talk) 08:27, August 19, 2019 (UTC)
Reply
That is a question that I've been wondering to even myself. I don't know why, but when I started to get interested in Pokémon, Oddish just sparked something in me. I came to love it and I even used one throughout my playthrough of Pokémon Red and it was my first wild Pokémon catch in Pokémon GO, and I just generally came to love Oddish and the Grass-type in general. TheWikiOddish (talk) 17:50, September 7, 2019 (UTC)
Disambiguation
Please make sure that the disambig pages follow this layout. Energy X 08:09, September 8, 2019 (UTC)
Reply
Well it doesn't explicitly state how old he is currently. Anyway, as said, you can use Special:Contact rather than talking to me. I don't like banning people due to their age, it feels a bit like discrimination on my part. Energy X 22:11, October 10, 2019 (UTC)
Reply from Travjt
Yep, that's me ☺️Travjt (talk) 10:41, October 19, 2019 (UTC)
Regarding this that happened a month ago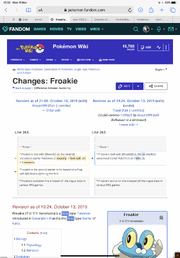 yep, I reverted your edit (unfortunately), but i did it for a good reason. In my summary, i actually mean It, Bulbasaur is a dinosaur. Just read the page. 👉👉 Travjt (talk) 21:36, November 11, 2019 (UTC)
Impidimp and it's evolution
So, after worming through the gen 8 pages to be if they needed fixing, i noticed that you made a trivia note to the pages of Impidimp and it's evolution. I noticed this was a mistake, so I cleaned up your edits to say that they were the only gender exclusive fairy types. Vullaby is gender exclusive and dark type, so I had to do this. Travjt (talk) 08:03, November 16, 2019 (UTC) hope you understand 
Block
Thanks for the report, user is blocked. Energy X 09:39, November 18, 2019 (UTC)
Impidimp
Hey Mozart, how do you know that only Male Impidimp can evolve twice? I need some clarifications.
Diana Lover (talk) 04:09, November 25, 2019 (UTC)Diana lover Diana Lover (talk) 04:09, November 25, 2019 (UTC)
Vandal
Good job. Maybe you have considered becoming a rollback? Energy X 11:52, December 22, 2019 (UTC)
Request
Thank you for notifying me, and congratulations, you passed the vote. Maybe you might make more than a rollback, in time. Energy X 21:41, January 12, 2020 (UTC)
Congrats then
James 😉 (talk) 16:12, January 13, 2020 (UTC)
Message.
Hey, I've just created a page proposing the requirements for user rights, voting criteria and demotion policy. Can you check the page and put your input? Alan Sycamore! (talk) 16:59, June 1, 2020 (UTC)
Blog
Doesn't seem to be violating any rules. If anything, you may have better chance at writing this request here. Energy X 20:38, June 7, 2020 (UTC)
Edit
I would normally say that what you did by adding the categories was right, but there's just too many of them. For these type of changes, we should wait for the MediaWiki to be upgraded so there's another way to handle this, without categories. Energy X 21:42, August 29, 2020 (UTC)
Playhouse Images
You could've, atleast, got rid of the white background from your images and named them properly. Please do so in future. Ellis99 Volcanion 09:39, 27 February 2021 (UTC)
I didn't know how to download the images without downloading them as webpage links, so I copied them and pasted them in Paint and removed the black backgrounds. I didn't know how else to do it. See my profile

AuSome!

아우솜!

Talk to me 16:11, 27 February 2021 (UTC)
Requests for User Rights
I am leaving a notification for this talk page so I can notify you of this. I have requested for Content Moderator on Requests for User Rights. Since I am rollback already, I already have all the prerequisites met and have been working on a lot on the wiki, especially on the Pokémon Journeys:The Series episodes plots. With the Content Moderator rights I can delete unneeded images or categories, move or rename images, move pages without a redirect on them and lock pages from vandals. Kittystyler talk 14:39, 1 April 2021 (UTC)
I voted for you! See my profile Talk to me 15:01, 2 April 2021 (UTC)
Notice
In future, could you leave a reply on the user's talkpage, so they notice. Otherwise, users may not know you've replied to them :) Ellis99 Volcanion 15:44, 2 April 2021 (UTC)
Sorry for late reply, but I forgot to do it. However it's good that she became content moderator. See my profile Talk to me 02:05, 16 April 2021 (UTC)
Community content is available under
CC-BY-SA
unless otherwise noted.