Welcome!
Welcome to Pokémon Wiki, and thank you for your contributions, there's a lot to do around here, so I hope you'll stay with us and make many more improvements.
| | |
| --- | --- |
| Things you can do: | Pages to visit: |
Edit
Please explain this. Energy X 15:44, August 9, 2017 (UTC)
The Prophecy
You have been chosen for the prophecy trials. You can choose any Pokemon of your liking to be put into the trials of the Great 6. Leave a Pokemon's name on my talk page with your signature, and I will have it featured. The prophecy is growing near. TheWikiOddish (talk) 16:49, November 25, 2018 (UTC)
Hi Parakeet! I am Rekha! Please visit my Pokemon are cute wiki ! and join it too!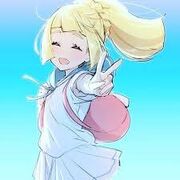 Tournament
Now is time to join the tournament. Read the post I made and happy battling! TheWikiOddish (talk) 16:26, February 3, 2019 (UTC)
Birbies
Woah, you really like birds. So do I. I have an English budgie and two peach-faced lovebird, and I just got the second one not to long ago. I just think birds are so cute.
Community content is available under
CC-BY-SA
unless otherwise noted.