backstory
in the year of 2030 technology grew rapidly to high advances for society so with the success all 9 regions banded together and made space colonies for people t live in space when all of them where constructed enough for people to live inside of them many people began to leave earth with they're pokemon and sooner than later nearly half the population on earth was now in space with more leaving occasionally. But within 4 months we were at war with the forces of zeon as they destroyed multiple colonies with their deadly weapon known as a zaku mobile suit. this event was what we call the 1 year war that nobody won at all. thus brings us to the beginning of the story....

part 1
as gladion looked out the window of the manor he only thought one thing "what was he doing up in the colonies" after his father quit aether he was asked to join in the alola military's project against zeon whenever they decide to attack again. So they told him he had to move up to colony 47 in star system 14. And that was 2 months ago but the only downside is gladion is not able to see mallow anymore since she did not move up to his colony and she was in colony 21 in the same system. "gladion get down here we are going to be late to the speech" lusamine said to gladion from downstairs. "almost ready" he said as he put on his dress jacket over his shirt and put on the necklace mallow gave him before she left to colony 2 over 5 months ago. "were is lillie" lusamine said confused to gladion as he came downstairs. "she left the house while you were still asleep i told her to be back by 7:00 but she did not and she left her phone her to". gladion said. "UGH she always does this whenever there is a speech gladion go get her" lusamine said. "ok" gladion said. As gladion walked out the front door he looked up at the fake sky and tried to remember the sky on earth with it's fresh smell that coated the world but here it smelled like nothing except air from the air condition. as he walked into the town he walked towards the bridge and saw lillie with lana and ash talking with each other. "lillie what the heck are you doing"? gladion asked upset at her."i-um-i am uhmm-just talking with lana and ash right now-" she was cut off. "you knew that there was a speech today and decided to try to get out of it well guess what not on my watch" gladion said loudly at her. "hey dude back off' ash said. "shut up ash-" gladion was cut off by an explosion. "ummm why is there smoke coming from the town square?" lana said scared. as they all looked in that direction they saw 4 zaku's coming out of their hiding spots and started to shoot the ground where the people were. "wait mom and dad are there" gladion said "we have to go now!" he said to ash and lillie. "b-but what aout mom and dad"? lillie asked. "we can find them later lets get to themilitary institute." gladion said. as they headed toward the building gladion said that him and lillie are the children of lusamine and mohn and had a friend with them. as they entered the bunker gladion caught a glimpse of a hangar bay. as they were about to enter the stronghold an explosion hit the building and the ceiling fell in on the hallway. "lillie! ash!" gladion yelled. he walked toward the hangar and eneterd and saw a giant robot with a small control pad next to the door saying MSZ-006 Zeta Gundam. "the hell" gladion said confused. He went into the robot and saw a video on screen. He clicked the start button and saw his father on screen. "if you are getting this message gladion me and your mother are already dead. I tried to warn them zeon was coming but they did not listen. so if you are here you have many questions but I can only answer one and that is what gundam is. Gundam is what I call the robot you stand in right now. I made it for you and nobody else at institute wanted you to pilot it but you are going to now. It is easy to control press the red button on your right when the recording ends and pull open the cabinet behind you and get out the control manual and follow the instructions on how to pilot gundam that is all I have to say right now. "dad DAD" gladion yelled as the recording ended. "i will destroy the zaku responsible for this" gladion said as he pressed the red button.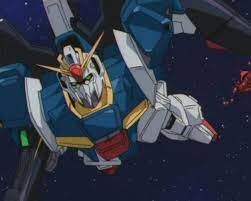 part 2
as gladion booted up the gundam the systems turned on to reveal the full cockpit in lighted up color. As gundam stood up the building shook again from another explosion. "help HELP"said ash and lillie as gladion heard them from a distance. "if the speakers are working then where are you guys?" gladion asked. "under this rubble but lillie has a broken leg" ash said. "ok i'll be careful' gladion said. As he lifted the rubble up he heard the sounds of more missiles heading to the building." i'll use the gundam as a shield" gladion yelled as the missiles hit his arm and leg. gundam took no damage. "i will try to fend them off you 2 head to the evacuation center I will meet you at the evacuation ship when this ends." gladion said. "but what if you don't" lillie asked. "i will come to the ship i promise" gladion said as the 2 ran to a jeep in the parking lot of the institute. As they left the zaku neared gladion. " what weapons does this thing have. A beam saber looks powerful" gladion said as he pulled the beam saber out. It was colors in a greenish yellow tint and he sliced through the first zaku and saw the green beat explode in his face. "AHHHHHHHHH" gladion screamed as he ran to the next zake and sliced it in half. As he did so another zaku shot him from a distance with a gun but the armor on gundam was able to withstand the shots. "DIE YOU FRICKS" gladion yelled as he sliced apart the gunner zaku. Then the last one remained but this one was skilled and dodged the first attacks but gladion killed it when he noticed the remains of the 4th zaku landed on an oil tanker and caught fire. "oh sh-" gladion said as the oil tanker exploded. But gundam withstood the blast and gladion continued to the shipping docks and then reached the docking bay for large cargo and exited the colony. As he caught up with the ship known as the rx-98-49 whitebase he saw the front right of the ship open up to reveal multiple mobile suits. As gladion landed inside he saw some people in uniforms approach the gundam. "well i am the son of mohn and lusamine" gladion said. "we kno my name is bright i am the captain of this ship" bight said. 'nice to meet you-" gladion saw mallow in the distance. "mallow!"gladion shouted to her. "Gladion!" mallow shouted back. they kissed each other and hugged. "what are you doing here" gladion asked. " I enlisted in pilot training and got a permit to pilot a mobile suit" mallow said as she walked gladion around whitebase. "here is my favorite spot" she said as they approached the window and looked out into the blue and purple cosmos and held hands. "where will we go next" mallow asked. "wherever the galaxy takes us" gladion responded as they admired the galaxy.