About me
Hello
Welcome to my Corner

My favorite pages
My friends
Pictures
Favorite Human Characters
Favorite Anime
Add links to your favorite pages on the wiki here!
Friends
Pictures

Favorite Human characters
Favorite Anime
Hopes
*Reappearances of Henny, Jimmy, Charlene, Titus
*an episode where Ash and his friends were captured by natives and Lillie is their tribal queen.
*Ritchie to return in the Sun and Moon Anime.
*A pokemon region based on Africa.
*One of the Team Twin Starmie guys, and one of Ilima's fans to have names.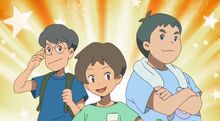 * An episode where Acerola comes to Pokémon School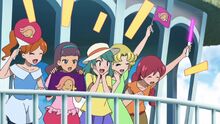 *A character named Pancho.
*Team Rainbow Rocket arc, Giovanni, Jessie, James, Meowth, Cassidy, Butch the entire Team Rocket, Team Magma, Team Aqua, Team Galactic, Team Plasma and Team Flare work together and take over Alola. It's up to Ash, Pikachu and his survival group Mary, Ted and Pancho to save Alola, Lillie and Gladion go on an epic quest. Lana, Sophocles, Kiawe, Mallow, Professor Kukai, Professor Burnet, Rotom Pokedex, and the other citizens of MeleMele island are Prisoners.
*Milo, Nessa, Trevor, Lana, Kabu, Morty, Drasna and Burgh to be in Pokemon Masters
Likes
Being in this wiki
Other wikis Except the dragon ball and other bad wikis I hate them
All Pokemon
The games
The Anime
To solve these unsolved mysteries of the pokemon world.
Dislikes
Being Blocked ( even permanently )
Pictures being deleted(I only perfer the pictures that I accidentally uploaded, or by mistake)
Community content is available under
CC-BY-SA
unless otherwise noted.