NEWS UPDATE
JULY 24, 2011: Oh my gosh. I AM SOOOOO SORRY! I'm stuck on the Warriors Wiki, Youtube, Stardoll, AND School homework. VERY UNACTIVE but I will try to remember to get on the wiki after I finish my homework at 5:00(AW!) pm. Thanks guys. I like my new purple signature! ^_^
MAY 10, 2011: New record for gettting a user to leave: 1 hours, 20 minutes. Wow guys. You broke a record. Thanks to the people who helped to break this record. <--- Saracasm. User:'Bulbasaur' is cyberbullied.
CREDIT FOR MY TALKBUBBLE IMAGE GOES TO SquareEnixRocks FROM THE KINGDOM HEARTS WIKI.
THIS PAGE HAS BEEN VANDALIZED
IF THIS PAGE IS BLANKED ONE. MORE. TIME. I AM GOING TO GET YOU BANNED.
Thank you.
BE GONE CONTRIBUERS!
Echo
[1]
Name
Echo(fake)I do act like her.....
Gender
Female
Wiki's I'm on
Kingdom Hearts, Pokemon(Naw dib, Sherlock. Just Kidding. Nobody's offended),The 39 Clues, Mermaid Melody, The Kane Chronicles, Pandora Hearts.
Alias
The Silent One, The Drawer, The Singer
Birthday
Sept. 8
Profile
Name: Echo (fake name)
Race: Human
Age: *stamps hardly* TOP SECRET!
Birthday: Sept. 8
Star Sign: Virgo
Gender: Female
Alias: The Silent One, The Drawer, The Singer
Blood Type: ? NO Idea.
Hobby: Singing, Computer stuff, Drawing
Talent: Drawing(It's true!)
Catch Phrase: Er...
Favorite Subject: Art, P.E.
Least Favorite Subject: Math
Favorite Color: Dodger Blue
Favorite Flower: Phlox
Favorite Food: Marachan Ramen(chicken)(Mmmmmm...)
Least Favorite Food: Raisins. I don't really know, but do hate raisins.
Favorite Type of Boy: Funny, Cute, Smart Boys
Hopes to Go: TOKYO, Paris, Cario, Sydney, Moscow, Hollywood, Ireland(I'm off to see the world)........
Introduction
Hello, I'm ANX219. I'm a new editor editor here and uploading sprites, Black and White(:D) stuff and vandalism are my things, As I said above. I love Kingdom Hearts, The 39 Clues and Pokemon(dur...)! If ya wanna talk to meh click teh tab thing that says "Talk Page" above teh message above(I like meh bad lanauage >:D). Thank you and enjoy my user page.
IRC
I am EchoWill on #wikia-pokemon. ANX219 on #KHWiki-social. I will sya who I am on ##roleplay.
Things About Me
Real Life, No spilling personal information
I speak English, bit of Spainsh, bit of French, and just now learn Japanese(I can sing. I'm really good too. >:D).
I like Kingdom Hearts, Pokemon(Naw dib, Sherlock. Just Kidding! No need to offend anyone. :P), Mermaid Melody(wiki link: http://mermaidmelody.wikia.com) Pichi Pichi Pitch/Pure(MY NEW FAVORITE Old favorite) and The 39 Clues(I finished Vespers Rising already. :P), and PANDORA HEARTS(MY ABSOLUTE FAVORITE! The Will of the Abyss and Echo are the coolest! Oz is freaking cute!)
I like to swim.
My favorite chara(PH): Alice, Will of Abyss, Oz, Echo
Whatever. I'm going to put up a profile(before profile set up).

Wiki
I was the one that posted N's and Ghestis' last name on Ghestis' Trivia slot saying they were trying bring harmony to pokemon.
Friends
Ask me and you can be up here too!
Parallel Hearts Lyrics (Had to put this up)
UNDER CONSTRUCTION!
Bokura wo mira

To-Do List
Unova-Lillipup and -->
Unova-Seismtoad and -->
Jotho-Chikorita and -->
Hoenn-Treecko and -->
Sinnoh-Turtwig and -->
Learnsets with SapphireWave
Unova first
no idea what pages needed(:P)
Oh god. A crapload of sprites to upload. *facepalm* *groan*
Guys
Personally, at this time of year(just this one) I'm depressed about guys. I'm weird, they're weird. *Sigh* Truth? Crush is moving to another state. *sobs* T.T I can't tell that if he likes me. I am his Onee-sama(kidding) and Sensei(Japanes for teacher; I'm teaching him Japanese). I guess I should grown up to be a loner, like Echo. Vincent is her master(makes her sit in his lap. Gross.), I think she likes Oz(me too :D). *Sigh* I think I'm going to use my money buying volumes of Pandora Hearts and Echo and Will of Abyss costumes volumes of Pastel(manga). Good luck to those lone girls out there just like me. *sobs*
This Guy is sooooooo hot! ♥_♥
Lucas is Diamond/Pearl(♥) is better than Platinum(BLEAH).
I love his hair!
Weird Stuff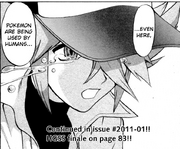 <--- What the--? Kinda dramatic...I guess.
Userboxes
ANX219 is a member
of Pokepower:Project Manga.
Community content is available under
CC-BY-SA
unless otherwise noted.