GTA: The Criminal Enterprises - The Loop
Play Sound
Route 18 is in south eastern Unova, only accessible by surfing through Route 17's rapids. The main part of the route is taken up by a hilly island in the west. Some researchers believe that it once bordered the Desert Resort.
On the center of the island is a house where your Pokémon can be healed if needed. Also in the house is a treasure hunter who will give you a Larvesta egg; and a man who buys Rare Bones, which the wild Dwebble in the area occasionally hold.
After defeating Ghetsis at N's Castle, you'll find Rood of the Seven Sages here.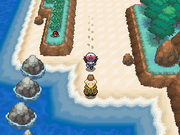 Trainers
Wild Pokémon
Black and White
Pokémon
Level
Rarity
How
Dwebble
Uncommon
Grass
Throh
Rare
Grass

White only

Sawk
Rare
Grass Black only
Scraggy
Common
Grass
Watchog
Uncommon
Grass
Audino
Common
Rustling Grass
Crustle
Uncommon
Dark Grass
Frillish


Common
Water Surface
Alomomola
Common
Water Surface Ripples
Jellicent


Rare
Water Surface Ripples
Chinchou
Very Rare
Fishing
Finneon
Common
Fishing
Horsea
Common
Fishing
Kingdra
Rare
Fishing Ripples
Lumineon
Rare
Fishing Ripples
Qwilfish
Uncommon
Fishing Ripples
Seadra
Common
Fishing Ripples
Larvesta
Egg
One
Given as gift
Black and White Versions 2
Trivia
The Possible reason that you can find Pokémon from Route 4 and Desert Resort (Scraggy, Dwebble) is because it once was connected to the Desert resort. It is unknown how this is possible, as the sea and Castellia City would be in the way.
Items