Tympole (Japanese: オタマロ Otamaro) is a Water-type Pokémon introduced in Generation V.
Biology
Physiology
Tympole is a small aquatic tadpole-like Pokémon. Tympole has a rounded black body with a tan-colored face. It has a small grinning mouth, round black eyes, and black eyebrows that resemble musical notes. It has round blue dome-shaped blue ears on either side of its head, and a flat, ovular blue fin-like tail.
Evolution
Tympole evolves into Palpitoad at level 25, and then into Seismitoad at level 36.
Game Info
Game Locations
Pokédex Entries
Stats
Base Stats
HP
Attack
Defense
Sp. Atk
Sp. Def
Speed
Total

294
Learnset
Leveling
TM/HM
Breeding
Tutoring
Sprites
Appearances
Manga
Pokémon Adventures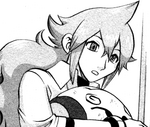 N
is shown to be owning a Tympole as he used it in a match against
Black
, though after his Tympole lost he did not return it to its
Poké Ball
because he thinks that Pokémon are his friends and he shouldn't trap it in a Poké Ball.
Trivia
Origin
Tympole is based on a tadpole and a loudspeaker. The bumps on its sides resemble headphones and the poison glands of toads. Its eyebrows also resemble the musical quarter note.
Etymology
Tympole comes from tympanic membrane (another name for the eardrum), tympani (a musical drum with a low sound) and tadpole.
Its Japanese name, Otamaro, comes from otamajakushi (a word used for both tadpole and musical note) and maro (shaved eyebrows).
Gallery
See also
Community content is available under
CC-BY-SA
unless otherwise noted.