Turtonator (バクガメス, Bakugamesu) is a fire/dragon-type Pokémon introduced in Generation VII. It is exclusive to Pokémon Sun.
Biology
Physiology
Turtonator is an anthropomorphic mata mata (freshwater turtle). It has a glaring expression and a spiky head covering, as well as a cannon-like snout. Its back resembles an explosion with many spikes, resembling debris while its limbs are short and stubby. Its tail resembles a Z-Crystal meant for a Z-Power Ring.
Habitat
It lives on volcanoes.
Behavior
It hides in rocks and ambushes unsuspecting prey. If a prey steps on its shell, it smacks its shell to cause an explosion.
Natural abilities
This Pokémon has excellent defensive capabilities. If any Pokémon or enemies attack it, the spikes on its shell will start sparks and blow out the explosion from the hole in its belly. But once you gain its trust, its spikes won't explode. The droppings that Turtonator leaves behind are highly explosive.
Diet
Turtonator's natural diet of sulfur results in its explosive shell.
Evolution
Turtonator does not evolve.
Game info
Locations
Pokédex entries
Sun

The shell on its back is chemically unstable and explodes violently if struck. The hole in its stomach is its weak point.

Moon

It gushes fire and poisonous gases from its nostrils. Its dung is an explosive substance and can be put to various uses.

Ultra Sun

It lives in volcanoes and eats sulfur and other minerals. Materials from the food it eats form the basis of its explosive shell.

Ultra Moon

Its exploding shell poses a real danger but is sensitive to moisture. On rainy days, Turtonator takes silent refuge in caves.

Sword

Explosive substances coat the shell on its back. Enemies that dare attack it will be blown away by an immense detonation.

Shield

Eating sulfur in its volcanic habitat is what causes explosive compounds to develop in its shell. Its droppings are also dangerously explosive.
Stats
Turtonator's Stats
HP
Attack
Defense
Sp. Atk
Sp. Def
Speed
Total

485
Learnset
Leveling
TM
Breeding
Tutoring
Sprites
Appearances
Anime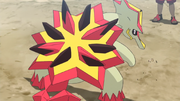 Trivia
Turtonator is very similar to Bowser from the Super Mario franchise. Both are fire-breathing turtles with draconic elements. They both have spiky shells and color schemes consisting of yellow and red.
The spiky hole in its stomach is its weak spot, but it is impossible to hit that spot in the games.
Turtonator continues the trend of a turtle-like Pokémon in each generation: Squirtle in Generation I, Shuckle in Generation II, Torkoal in Generation III, Turtwig in Generation IV, Tirtouga in Generation V, Avalugg in Generation VI, and Drednaw in Generation VIII.
Turtonator's ability is similar to the Mine Turtle from the ASDF web cartoon by TomSka.
Turtonator can be seen as a counterpart to Drampa. Both are dual

Dragon

-type Pokémon introduced in Generation VII. Both also have the same BST with the same stats with the exception of Speed. Turtonator is exclusive to Pokémon Sun, Pokémon Ultra Sun and Pokémon Sword while Drampa is exclusive to Pokémon Moon, Pokémon Ultra Moon, and Pokémon Shield.
Origin
Turtonator appears to be based on a Mata mata, a freshwater turtle from South America. It may also draw inspiration from cannons and land mines. It being a bipedal, draconic turtle-like creature with a spiky shell and fire powers may also be a reference to Bowser from the Super Mario series. Its Dragon type may be based on the Tarasque and Dragon Turtle.
Etymology
Turtonator is a combination of "turtle" and "detonator". Its name also has the word "ton" in it.
Its Japanese name, Bakugamesu, is a combination of 爆発 (bakuhatsu, explosion) and 亀 (kame, turtle).
Names in other languages
Italian: Turtonator
French: Boumata (comes from boum (boom) and mata mata (a type of turtle))
German: Tortunator (comes from tortoise and detonator)
Spanish: Turtonator
Gallery