Fire Emblem Warriors: Three Hopes - The Loop
Play Sound
Tsareena (アマージョ, Amaajo) is a grass-type Pokémon introduced in Generation VII.
Biology
Physiology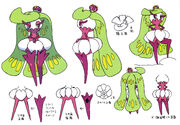 Tsareena is a bipedal Pokémon. Its face and lower torso are white, while its eyes and lashes are magenta. A muffler-like design covers its neck. It has slender arms and legs that are the same color as her eyes. On its head, three long leaves extend to the lower half of its leg, with a bigger leaf flipping near its crown, which is colored similarly to its overall color scheme. The backs of the leaves have small circular yellow patterns.
Behavior
Tsareena are generally prideful Pokémon and when one encounters strangers who are ill-willed or evil, they will instantly punish them with their famously formidable kicks and even cackle at their defeated opponents as a way of gloating. In captivity, they also show signs of despise towards Trainers whom they regard as weak by giving out strict death stares if they are ordered to use an ineffective move or towards ones don't have an intimate bond with.
In their evolutionary family, only the strongest Steenee can evolve under the blessings of its kind. Upon evolving, Tsareena will gain excessive strength that helps them to master their leg power even better than Steenee. The majority of them take up the responsibilities of guarding and protecting other Steenee and Bounsweet, even becoming aggressively defensive to outsiders (especially bird Pokémon) that they consider dangerous to fellow Bounsweet. Some may describe Tsareena as merciless, since they laugh boisterously after cruelly stomping and defeating their foes with their curvy and sharp legs, which inflict both physical and psychological agony in an everlasting way to the victims.
Natural Abilities
Tsareena can utilize their legs better than their pre-evolution, performing brutal kicks through elegant and poised movements. They can confuse opponents through their alluring aroma before delivering a devastating blow.
However, if the "crown" of Tsareena is being touched too long, they will permanently lose their power.
Game info
Locations
Pokédex entries
Sun

Its long, striking legs aren't just for show but to be used to kick with skill. In victory, it shows off by kicking the defeated, laughing boisterously.

Moon

A Pokémon known for the beauty of its well-shaped legs, it sometimes appears as a mascot in advertisements for beauty salons.

Ultra Sun

A master of grand and beautiful kicks, it can knock out even kickboxing champions with a single blow.

Ultra Moon

A Pokémon with an aggressive personality and a mastery of kicking, it cackles every time it kicks an opponent.

Sword

This feared Pokémon has long, slender legs and a cruel heart. It shows no mercy as it stomps on its opponents.

Shield

A kick from the hardened tips of this Pokémon's legs leaves a wound in the opponent's body and soul that will never heal.
Stats
Tsareena's Stats
HP
Attack
Defense
Sp. Atk
Sp. Def
Speed
Total

510
Learnset
Leveling
TM
Breeding
To see the Egg Moves that Tsareena can learn, refer to Bounsweet.
Tutoring
Sprites
Appearances
Anime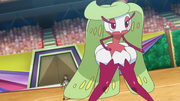 Main article: Mallow's Tsareena
Mallow's Steenee evolves into Tsareena in All They Want to Do is Dance Dance! whilist rescuing everyone from Team Rocket.
Trivia
Origin
While Tsareena is based on female monarchs, there is also a darker, more sinister side to its origin: in addition to its theme of being based on a monarch, Tsareena is also based on a dominatrix, surprisingly enough for a family-friendly franchise like Pokémon. Evidence pointing to this includes the Pokémon's behavior and personality, its moveset (which includes moves like Punishment, Play Rough, Play Nice, Stomp, and Power Whip), and the fact that Mallow's Tsareena was graphically shown stomping on and rubbing her foot on Kiawe's face in the anime.
On the other side, the fact that Tsareena's whole evolutionary line is all female is based on the fact that mangosteen plants only have female flowers. Tsareena's motif is also a reference to the mangosteen's title as "The Queen of Fruits".
Etymology
Tsareena comes from the words tsarina (Russian for princess) and mangosteen, the real-life berry that every member of her evolutionary line is based on. It may also incorporate the words mean or demean, referring to her personality and love of humiliating her foes.
Its Japanese name, Amaajo, can be translated as "Sweet Queen."
Gallery