Tranquill (Japanese: ハトーポー Hatooboo) is a Normal/Flying-type Pokémon introduced in Generation V.
Biology
Physiology
Tranquill is an avian Pokémon that resembles a pigeon.
Behavior
Tranquill seem to have very strict requirements and a more serious nature than Pidove, and can rely on their keen intuition and sharp vision to pursue the route, looking for their targets. But Tranquill are also very friendly, so it is not necessary for human to question about their loyalty. Additionally, Tranquill seem to have a spirit of pacifism, which might be a reason why some humans believe that they live in a kingdom full of peace.
Evolution
Tranquill is the evolved form of Pidove and the pre-evolved form of Unfezant. It evolves at level 32.
Game info
Locations
Version(s)
Area(s)
Rarity
Black and White
Route 6, Route 7, Route 12, Pinwheel Forest, Lostlorn Forest, Dragonspiral Tower
Common
Black 2 and White 2
Route 3, Route 6, Route 7, Route 12, Victory Road
Common
Sword and Shield
Bridge Field, Giant's Mirror, Giant's Seat, Stony Wilderness


Max Raid Battles: Bridge Field, East Lake Axewell, Motostoke Riverbank, Rolling Fields

Common
Pokédex Entries
Stats
Tranquill's Stats
HP
Attack
Defense
Sp. Atk
Sp. Def
Speed
Total

358
Learnset
Leveling
TM/HM
Breeding
To see the Egg Moves that Tranquill can learn, refer to Pidove.
Tutoring
Sprites
Anime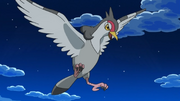 Trivia
Origin
Tranquill is based on a pigeon or dove. Its larger appearance seems similar to that of other birds such as roadrunners or falcons.
Etymology
Tranquill may come from tranquil and quill (a tail feather of a bird).
Gallery
See also
Community content is available under
CC-BY-SA
unless otherwise noted.