Toxicroak (Japanese: ドクロッグ Dokuroggu) is a Poison/Fighting-type Pokémon introduced in Generation IV.
Biology
Physiology
Toxicroak is an amphibian-like Pokémon that bears a close resemblance to a Poison Dart Frog. It has sickly blue skin with a bulging orange throat. Its middle toes are orange as well, and on both hands, it has a poisonous orange claw.
Gender differences
Male Toxicroak have bigger throat-sacs than the females.
Behavior
It can be cruel and fearsome or it can be laid back depending on the situation or the personality of the individual.
Evolution
Toxicroak is the evolved form of Croagunk as of level 37.
Game Info
Locations
Side Game Locations
Pokédex Entries
Stats
Base Stats
HP
Attack
Defense
Sp. Atk
Sp. Def
Speed
Total

490
Learnset
Leveling
TM/HM
Breeding
To see the Egg Moves that Toxicroak can learn, refer to Croagunk.
Tutoring
Sprites
Appearances
Anime
Main article: Saturn's Toxicroak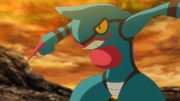 Toxicroak belongs to Saturn, a Team Galactic Commander. Toxicroak has been seen making scary faces with Brock's Croagunk, making this part of the Anime a comical sight. It also appears to be shiny.
Trivia
No other Pokémon share the same type combination as Toxicroak and its pre-evolution, Croagunk.
Etymology
Toxicroak's name comes from the words "Toxic" and "Croak". Toxicroak's design is based on a poison dart frog.
Gallery
See also
Community content is available under
CC-BY-SA
unless otherwise noted.