Torchic (Japanese: アチャモ Achamo) is the Fire-type Starter Pokémon of the Hoenn region.
Biology
Physiology
Torchic are a small, chick-like Pokémon. Its soft, fluffy plumage is mainly bright orange, with tiny, yellow, developing wings, and a yellow plume of three feathers atop its head. It has a small, tan beak, and large, black eyes. It has tan-colored talons with three digits.
Gender differences
Male Torchic have a black spot on their back, but it's a little hard to see it.
Special abilities
Torchic have a fireball blazing inside its belly. When hugged, it fills its trainer with soothing warmth, as if they are holding a hot-water bottle. It can use the flame in its belly to exhale orbs of searing fire at its opponents. The fireballs that Torchic spits are of 1,800 degrees F, leaving its foes utterly scorched.
Behavior
Torchic are very loyal and dependent on its Trainer, following behind them everywhere they would go.
Evolution
Torchic evolves into Combusken at level 16 and then into Blaziken at level 36.
Game info
Locations
Side game locations
Pokédex entries
Stats
Base Stats
HP
Attack
Defense
Sp. Atk
Sp. Def
Speed
Total

310
Learnset
Leveling
TM/HM
Breeding
Tutoring
Sprites
Appearances
Anime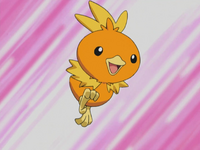 Main article: May's Blaziken (anime)
May's first Pokémon was a Torchic. It later evolves into Combusken and then Blaziken.
A wild Torchic appeared in Meloetta's Moonlight Serenade and Pikachu and the Pokémon Music Squad.
Trivia
Torchic is the first

Fire

-type starter that does not have fire on its body. However, it has a blazing flame inside its belly.
Torchic originally had floppy ears in its Beta design.
Torchic is the only starter Pokémon to have two limbs.
In Super Smash Bros., Torchic is one of the Pokémon that can be freed from Poké Balls. During this time, it uses the move Fire Spin.
Origin
Torchic is based on a chick (a baby chicken).
Etymology
Torchic is a portmenteau of Torch and Chick.
Gallery
See also
Community content is available under
CC-BY-SA
unless otherwise noted.