Roblox: DeepWoken - The Loop
Play Sound
Togetic (Japanese: トゲチック Togechikku) is a Fairy/Flying-type (formerly Normal/Flying-type) Pokémon introduced in Generation II.
Biology
Behavior
Whenever they notice a person with a pure soul, they will go near to him and sprinkle the happiness and enthusiasm (which is called "the dust of happiness") on him or her. In order to share the happiness, they fly around the world looking for good people. If they don't stay with good people, they will become very frustrated.
Evolution
Togetic is the evolved form of Togepi. Since Generation IV, it can evolve into Togekiss by using a Shiny Stone.
Game info
Game locations
Side game locations
Pokédex entries
Stats
Togetic's Stats
HP
Attack
Defense
Sp. Atk
Sp. Def
Speed
Total

405
Learnset
Leveling
TM/HM
Breeding
To see the Egg Moves that Togetic can learn, refer to Togepi.
Tutoring
Tutoring

Generation II

Move
Power
Accuracy
PP
Type
Flamethrower 

C

95
100%
15

Fire

Bold indicates this Pokémon receives STAB from this move.
Italic indicates an evolved or alternate form of this Pokémon receives STAB from this move.
Sprites
Appearances
Anime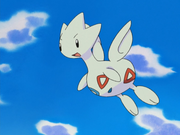 Main article: Togetic (anime)
Togetic first appeared in A Togepi Mirage!
Trivia
Togetic and its evolution, Togekiss, are the only Pokémon to have the

Fairy

/ type combination.
Togetic's Gold/Silver/Crystal sprite is somewhat bulkier than the present ones.

Its Gold and Silver sprites also depict it as yellow until it was changed to a more whitish-blue in Crystal. However, its Shiny coloration in Crystal keeps its yellow skin.

Togetic and its evolution Togekiss have a unique egg group combo (Flying & Fairy).

Strangely, the egg group it has is the same as its type but reversed.
Origin
Togetic's body shape appears to take inspiration from an egg, seeing as how Togepi usually hatches from one. Its wings could reference birds, an animal often associated with eggs, or angels and fairies, seeing as how it later was given the Fairy type in Generation VI.
Etymology
Togetic may come from the words toge ('spike' in Japanese) and "chick" (the name of a baby bird).
Gallery
See also