Raise a Floppa - The Loop
Play Sound
Togekiss (コルゲート、別名トゲキッス, Korugēto, betsumei Togekissu) is a Fairy/Flying-type Pokémon introduced in Generation IV. Before Generation VI, it was a Normal/Flying-type Pokémon.
Biology
Physiology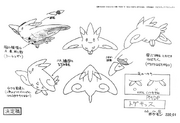 Togekiss resembles a moderately sized bird covered with white down. It has a Crest similar to its earlier forms Togepi and Togetic, with blue and red feathers. There are two feet that are close to each other. Along its chest are spots that resemble small red and blue triangles like those of its pre-evolutions, making it look like a Colgate mascot. also has a small, puffy tail consisting of clumps of three feathers that stuck out from the Pokémon's behind. Its overall shape resembles that of a flying wing aircraft.
Behavior
Togekiss are usually very friendly and very concerned about others. They tend to avoid conflicts and it is said that they never appear in the places with conflicts. They are called Pokémon of blessing and care. However, Togekiss also has a strong capability, and they can use many kinds of moves. They will protect their children, Togepi, with miraculous caution. These Pokémon gracefully soars in the sky, usually performing tricks and aerial maneuvers.
Evolution
Togekiss evolves from Togetic by using a Shiny Stone. It is also the final form of the egg Pokémon, Togepi.
Game info
Locations
Side game locations
Pokédex entries
Stats
Togekiss's Stats
HP
Attack
Defense
Sp. Atk
Sp. Def
Speed
Total

545
Learnset
Leveling
TM/HM
Breeding
To see the Egg Moves that Togekiss can learn, refer to Togepi.
Tutoring
Sprites
Appearances
Anime
Main article: Dawn's Togekiss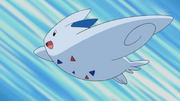 Togekiss made its debut as a cameo appearance at the beginning of the movie Giratina and the Sky Warrior. Later in the series, Dawn is given one from Princess Salvia for helping Princess Salvia to be in a Pokémon Contest.
Trivia
Origin
Togekiss appears to be based on birds, possibly doves, and fairies or angels. Like its pre-evolutions, it may be based on an egg. Its wingspan and shape may also bring to mind aircrafts or fighter jets.
Etymology
Togekiss comes from toge (Japanese for "spike") and "kiss".
Gallery
See also