Fire Emblem Warriors: Three Hopes - The Loop
Play Sound
Thundurus (Japanese: ボルトロス Borutorosu) is an Electric/Flying-type Legendary Pokémon introduced in Generation V. It is a member of the Forces of Nature along with Tornadus, Landorus, and Enamorus.
Biology
Physiology
Thundurus is a blue Pokémon with a purple horn and markings on its body. It has white hair on its head vaguely resembling a thunderbolt, and it also has hair on its face. Its eyes are yellow and it has small pupils. It has a long, purple tail with seven gray spiked ball-like structures.
In Incarnate form, it is somewhat humanoid and the hair on its face resembles a mustache. Its lower torso consists of a cloud.
In Therian form, it becomes dragon-like in appearance. The hair on its face resembles whiskers. The lower half of its body is purple and its hands have three purple claws each and are covered in clouds. It also has a blue oval-shaped gem on its navel.
Behavior
Evolution
Thundurus does not evolve.
Game info
Game locations
Pokédex entries
Stats
Learnset
Leveling
TM/HM
Incarnate Forme
Therian Forme
Breeding
Thundurus learns no moves via breeding.
Tutoring
Sprites
Appearances
Anime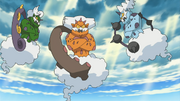 Thundurus and its brothers appeared in Stopping the Rage of Legends! (Part 1) and Stopping the Rage of Legends! (Part 2). It appeared in its Therian form in Unrest at the Nursery!.
Trivia
Thundurus is the third

electric

/ type Pokémon, the others being Zapdos and Emolga.

Coincidentally, Zapdos and Thundurus are both part of legendary Trios.

Thundurus's species happens to be one of Zekrom's signature moves, Bolt Strike. However, Thundurus can not learn this move.
Origin
Thundurdus is based on Raijin, a god of thunder in Japan. It, alongside the other Forces of Nature, resembles a genie.
Its Therian Forme is based on the Azure Dragon from the Four Symbols of Chinese mythology.
Etymology
Thundurus is a portmanteau of thunderous and possibly Aeolus, a Greek wind god.
Borutorosu likely comes from either volt (the SI unit of electrical potential) or bolt (as in a thunderbolt) and Aeolus.
Gallery
See also
Generation V Pokémon
Other Pokémon:

Kanto

•

Johto

•

Hoenn

•

Sinnoh

•

Kalos

•

Alola

•

Galar