Roblox: DeepWoken - The Loop
Play Sound
Thundurus (Japanese: ボルトロス Borutorosu) is an Electric/Flying-type Legendary Pokémon introduced in Generation V. He and his counterparts Tornadus and Landorus form the Forces of Nature.
Biology
Physiology
Thundurus is based on a Genie with a spiked tail, while his Therian form is based on a bipedal dragon.
Behavior
Evolution
Thundurus does not evolve.
Game info
Game locations
Pokédex entries
Stats
Thundurus's Stats
HP
Attack
Defense
Sp. Atk
Sp. Def
Speed
Total

580
Thundurus's Stats
HP
Attack
Defense
Sp. Atk
Sp. Def
Speed
Total

580
Learnset
Leveling
TM/HM
Incarnate Forme
Therian Forme
Breeding
Thundurus learns no moves via breeding.
Tutoring
Sprites
Appearances
Anime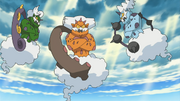 Thundurus and its brothers appeared in Stopping the Rage of Legends! (Part 1) and Stopping the Rage of Legends! (Part 2). It appeared in its Therian form in Unrest at the Nursery!.
Trivia
Thundurus is the third

electric

/ type Pokémon, the others being Zapdos and Emolga.

Coincidentally, Zapdos and Thundurus are both part of legendary Trios.

Thundurus's species happens to be one of Zekrom's signature moves, Bolt Strike. However, Thundurus can not learn this move.
Thundurus, Zapdos, Zekrom and Raikou all have something in common.

All of them are part of a Legendary trio.
All of them are

electric

type Pokémon.
All of them are Legendary Pokémon.
This is due to Bolt Strike being exclusive to Zekrom.

While Thundurus has a gender, it still cannot breed because due to being a Legendary Pokémon.
Origin
Thundurdus is based on a Raijin, a god of thunder in Japan. It, alongside the other Forces of Nature, resembles a genie.
Its Therian Forme resembles a reptilian, most likely a dragon. It may also be based off of the Black Turtle or Azure Dragon from the Four Symbols of Chinese mythology.
Etymology
Thundurus is a portmanteau of thunderous and possibly Aeolus, a Greek wind god.
Borutorosu likely comes from either volt (the SI unit of electrical potential) or bolt (as in a thunderbolt) and Aeolus.
Gallery
See also