Roblox: DeepWoken - The Loop
Play Sound
Talonflame (ファイアロー Faiaroo) is a Fire/Flying-type Pokémon introduced in Generation VI.
Biology
Physiology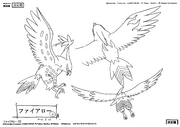 Talonflame is a large hawk-like bird Pokémon. It has flame-red feathers covering its head and wings, and specks of orange, resembling embers, on its underbelly and legs. The lower part of Talonflame's body is gray in color. Its large orange wings are tipped with black feathers. Its tail is black with yellow stripes. It now has powerful legs and sharp yellow, clawed talons. Its eyes are narrowed and yellow in color, and it has a short, sharp black beak.
Behavior
In the fever of an exciting battle, it showers embers from the gaps between its feathers and takes to the air. Talonflame are known to hunt smaller bird Pokémon for prey such as Pikipek or Wingull.
Evolution
Talonflame evolves from Fletchinder at level 35, which evolves from Fletchling at level 17.
Game info
Game locations
Pokédex entries
Stats
Talonflame's Stats
HP
Attack
Defense
Sp. Atk
Sp. Def
Speed
Total

499
Learnset
Leveling
TM/HM
Breeding
To see the Egg Moves that Talonflame can learn, refer to Fletchling.
Tutoring
3D Models
Battle Animation Sprites
Anime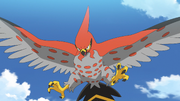 Trivia
With the increase in name sizes in Generation VI, Talonflame is the first Pokémon to have over five katakana characters in its Japanese name, ファイアロー.
Talonflame can have a maximum Speed stat of 386 in battle; this is likely a reference to the species it is based on: the Peregrine Falcon, which can fly at speeds close to/above 386 km/h (roughly 240 mph).
Although it preys on Wingull, Talonflame is weak to Wingull's primary type,

water

.
Origin
Talonflame is based on a peregrine falcon while also having elements of other predatory birds such as a goshawk or kestrel. Its pre-evolutions may make it based on a robin, specifically a Japanese robin due to its coloration. Its Fire typing may also make it based on a fire robin. Its relation to fire and speed may be based on the fact that fast moving objects are able to create heat or catch on fire.
Etymology
Talonflame comes from talon and flame.
Its Japanese name, Faiarō, comes from fire and arrow.
Gallery