Fire Emblem Warriors: Three Hopes - The Loop
Play Sound
Swanna (スワンナ, Suwanna) is a Water/Flying-type Pokémon introduced in Generation V.
Biology
Physiology
Swanna is a somewhat fat avian swan-like Pokémon with large amounts of white plumage. It has a long yellow beak with a black cere around it. On its head are several white-colored feathers with a more pointed feature at the top. Just like with most swans, Swanna possess a curved neck. Located on its plump breast are two light-blue feathery figures that are similar to the ones on its head. Its wings, however, are positioned in a way unconventional to birds. Its legs are small and it has dark-colored webbed feet.
Behavior
It can fly for thousands of mile without rest, much like how Mudsdale can travel long distances on land, and take flight at dawn. At dusk, they dance around their leader. It appears to be very physically powerful as it delivers forceful pecks from its beak.
Evolution
Swanna is the evolved form of Ducklett as of level 35.
Game info
Game locations
Pokédex entries
Stats
Swanna's Stats
HP
Attack
Defense
Sp. Atk
Sp. Def
Speed
Total

473
Learnset
Leveling
TM/HM
Breeding
To see the Egg Moves that Swanna can learn, refer to Ducklett.
Tutoring
Sprites
Appearances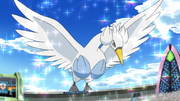 Anime
Supporting
Minor
Swanna appeared in many episodes of Black & White series. Many important characters such as Skyla, Cameron and Officer Jenny used it.
Trivia
Origin
Swanna is based on a fully-grown swan. It is possibly based on a Trumpeter Swan, as seen by the trumpet it held in a trailer about Pokémon Musicals, but it physically resembles the more common mute swan. It is also possible that it is based on Odette from the Swan Lake ballet, since its appearance appears to be similar to her outfit. Its evolution from a duck to a swan may be a reference to the fairy tale, The Ugly Duckling.
Etymology
Swanna and its Japanese name, Suwanna, are portmanteaus of swan and ballerina.
Names in other languages
Gallery
See also
Generation V Pokémon
Other Pokémon:

Kanto

•

Johto

•

Hoenn

•

Sinnoh

•

Kalos

•

Alola

•

Galar