Swablu (Japanese: チルット Chirutto) is a Normal/Flying-type Pokémon intorduced in Generation III.
Biology
Physiology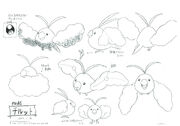 Swablu is a small and round blue bird Pokémon with a pair of fluffy cloud-like wings. It has a white beak, small feet and black eyes. It has a short tail and two head feathers.
Behavior
Swablu is a cleany Pokémon that diligently cares for its wings. If it spots any dirt, it will wash itself with water.
Swablu is additionally amiable that will not afraid of approaching humans, and likes to pretend itself to be a hat while perching on a person's head.
Natural abilities
Swablu can blend itself with cumulus clouds due to its cloud-like fluffy wings, making foes having a difficult time to search for them.
Evolution
Swablu evolves into Altaria once it reaches level 35.
Game info
Game locations
Pokédex entries
Stats
Swablu's Stats
HP
Attack
Defense
Sp. Atk
Sp. Def
Speed
Total

310
Learnset
Leveling
TM/HM
Breeding
Tutoring
Sprites
Appearances
Anime
Trivia
Origin
Swablu appears to be based on a bluebird, blue jay, or swallow and a cloud.
Etymology
Swablu may come from swallow (referring to the type of bird) and blue.
Gallery
See also
Community content is available under
CC-BY-SA
unless otherwise noted.