Raise a Floppa - The Loop
Play Sound
Stufful (ヌイコグマ, Nuikoguma) is a Normal/Fighting-type Pokémon introduced in Generation VII.
Biology
Physiology
Stufful resembles a red panda and a plush doll.
Behavior
Although a lot of ladies and children fall in love with them because of its adorable appearance, manners and soft fur, it actually detests being stroked and will continuously struggles by waving its paws. However, they won't struggle if they're near those they trust or comfortable with.
Natural abilities
Despite having a small size, it has powerful strength. Anyone who gets by it suddenly, including the ones who are well-trained, will get severely injured.
Evolution
Stufful evolves into Bewear upon reaching Level 27.
Game info
Locations
Pokédex entries
Sun

Despite its adorable appearance, when it gets angry and flails about, its arms and legs could knock a pro wrestler sprawling.

Moon

A touch from anyone except a known friend sends it into a surging frenzy. It's an incredibly dangerous Pokémon.

Ultra Sun

It boasts power enough to split large trees in half. The organ on its rear releases an odor that it uses to communicate with others of its kind.

Ultra Moon

Stufful hates to be hugged or touched in any way. It will squirm, thrash, and resist with amazing power.

Sword

Its fluffy fur is a delight to pet, but carelessly reaching out to touch this Pokémon could result in painful retaliation.

Shield

The way it protects itself by flailing its arms may be an adorable sight, but stay well away. This is flailing that can snap thick tree trunks.
Stats
Stufful's Stats
HP
Attack
Defense
Sp. Atk
Sp. Def
Speed
Total

340
Learnset
Leveling
TM
Breeding
Breeding

Generation VII

Move
Father
Power
Accuracy
PP
Type
Category
Endure
Dunsparce, Swinub, Piloswine, Mamoswine, Phanpy, Vigoroth, Pachirisu, Buneary, Lopunny, Cubchoo, Beartic
—
—%
10

Normal

Status

Force Palm
Mienfoo, Mienshao
60
100%
10

Fighting

Physical

Ice Punch *
Sneasel, Delibird, Buneary, Scraggy, Cubchoo
75
100%
15

Ice

Physical

Mega Kick
Mudbray, Mudsdale
120
75%
5

Normal

Physical

Stomping Tantrum
Mankey, Primeape
75
100%
10

Ground

Physical

Thunder Punch
Ampharos
75
100%
15

Electric

Physical

Wide Guard
Mienshao
—
—%
10

Rock

Status

Bold indicates this Pokémon receives STAB from this move.
Italic indicates an evolved or alternate form of this Pokémon receives STAB from this move.
* indicates this move requires chain breeding.
◊ indicates the father must learn this move in a previous generation.
♈ indicates the father must learn this move via a TM.
Tutoring
Sprites
Appearances
Anime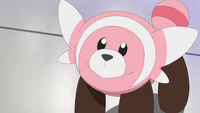 Main article: Stufful (anime)
Stufful made brief appearances since "A Dream Encounter!", prior becoming part of the major cast as of Don't Ignore the Small Stufful!. It was originally one of the Aether Foundation's Pokémon before it first met Team Rocket Trio who have been infiltrating the foundation many times whenever Ash and his friends visiting there. It first met the Team Rocket Trio in some time after the recovery of Necrozma.
Its backstory revealed that Stufful ended up separated from its long-lost mother Bewear and got rescued by Aether Foundation member Wicke, who eventually shelters it at Aether Paradise for recovery until they found its mother. During Team Rocket's second infiltration on Aether Paradise it began to attach to Team Rocket's Jessie as it smells its mother's scent on the Team Rocket member, and eventually leads it right on the track when Bewear always arrived foiling Team Rocket's plan and dragging them, reuniting with its mother once more.
As its mother is often being a running gag on dragging Team Rocket away from the heroes to the "new blast", Stufful becomes part of this gag, starting from Heart of Fire! Heart of Stone!, properly, where Stufful appears in front of Team Rocket, signals Bewear's incoming presences before them.
Trivia
Stufful is one of the sixteen Pokémon to be made into a puppet in Japan.
Origin
Stufful appears to be based on a red panda and a teddy bear.
Etymology
Stufful might be a combination of stuffed, full, and struggle.
Names in other languages
English, Italian and Spanish: Stufful
French: Nounourson
German: Velursi
Chinese: 童偶熊
Korean: 포곰곰
Gallery