Raise a Floppa - The Loop
Play Sound
Steenee (アママイコ, Amamaiko) is a grass-type Pokémon that was introduced in Generation VII.
Biology
Physiology
Steenee is a bipedal, humanoid Pokémon that can only be female. It has a white body with slender arms, a round white head, and large magenta eyes. Its torso and legs are both pink and purple, and it has fleshy white segments that resemble a dress or skirt on its hips. On the top of its head are a hair-like stem and two big leaves that curl downward, with a smaller tuft in the center. The left leaf also has two yellow circular designs on it.
Behavior
Unlike their pre-evolution, Steenee like playing with other Pokémon. This is because of their hard sepals, which allow them to survive without even having to worry about bird Pokémon. However, they're also much harder to live with since they're oblivious to just how powerful their sepals are. This can cause a great deal of grief and frustration for Trainers who get smacked in the face on accident.
Natural Abilities
Like their pre-evolution, Steenee have a very pleasant aroma. The aroma apparently fills anyone who inhales it with a surge of bliss and happiness.
Steenee also have powerful legs and sepals that are able to drive off any Pokémon that tries to attack it. After hitting opponents with sepals to flinch them, Steenee will then kick them with a heavy blow to knock them out.
Evolution
It evolves from Bounsweet starting at level 18 and evolves into Tsareena when it levels up after learning the move Stomp.
Game info
Locations
Pokédex entries
Sun

The sepals on its head developed to protect its body. These are quite hard, so even if pecked by bird Pokémon, this Pokémon is totally fine.

Moon

This Pokémon is always bouncing around energetically. Other Pokémon are attracted by its lively appearance and pleasant aroma.

Ultra Sun

It bounces around, swinging the sepals on its head with abandon. They're quite painful when they smack you!

Ultra Moon

It's protected by its hard sepals, so it plays with bird Pokémon without worry. They peck it relentlessly, but it doesn't care.

Sword

As it twirls like a dancer, a sweet smell spreads out around it. Anyone who inhales the scent will feel a surge of happiness.

Shield

Any Corvisquire that pecks at this Pokémon will be greeted with a smack from its sepals followed by a sharp kick.
Stats
Steenee's Stats
HP
Attack
Defense
Sp. Atk
Sp. Def
Speed
Total

290
Learnset
Leveling
TM
Breeding
To see the Egg Moves that Steenee can learn, refer to Bounsweet.
Tutoring
Sprites
Appearances
Anime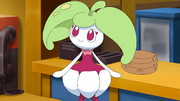 Main article: Mallow's Steenee
Mallow Bounsweet evolve into a Steenee in A Seasoned Search!, where it battle against Team Rocket. Steenee later evolve into Tsareena in All They Want to Do is Dance Dance!.
Trivia
Steenee is one of the ten Pokémon that evolve after learning a specific move.
Origin
Steenee appears to be based on a mangosteen and a young girl. The fact that the whole line is solely female is based on the fact that mangosteen plants only have female flowers.
Etymology
Steenee's name includes teeny-weeny, which is slang for tiny. It also includes mangosteen, a type of berry that Steenee's evolutionary line is based on, green, a synonym for plants and the color of the Pokémon's leaves, and teen, referring to its slightly aged look from Bounsweet.
Gallery