Starly (ムックル Mukkuru) is a Normal/Flying-type Pokémon introduced in Generation IV.
Starly evolves into Staravia starting at level 14.
Biology
Physiology
Starly are small bird-like Pokémon with a similar appearance to other bird Pokémon such as Pidgey, Taillow and Pidove. Its body is mainly brown-gray in color with white blotches on its face, chest and a single white feather on its tail while the others are black. There is a small feather located on the back of its head that curls up similar to its evolved forms, though less dramatic. It also has orange feet and an orange beak. If a Starly is Shiny it is light brown.
Gender differences
Male Starly have bigger face prints then the females.
Diet
Starly usually eat Bug-type Pokémon like Caterpie and Wurmple. Occasionally they may also eat Cherubi.
Game data
Locations
Locations
Version(s)
Area(s)
Rarity
Diamond and Pearl
Routes 201, 202, 203, 204, 209, and 212, Lake Verity, Great Marsh
Common
Platinum
Routes 201, 202, 203, 204, Lake Verity
Common
HeartGold and SoulSilver
Headbutt Trees (Pewter City)
Rare
Black and White
White Forest (White only)
Unknown
Omega Ruby and Alpha Sapphire
Trade
None
Sun and Moon
Breed Staravia
None
Side Game Locations
Pokédex Entries
Side Game Data
Pokémon Ranger: Shadows of Almia
No.
Pokémon
Group
Field Move
Poké Assist
R-023
Starly
None
Flying
Capture Points*
On Sight**
?
Partner Pokémon (special reaction)
Browser Entry
It sends out twisters. It also rams to attack.
* - This is the amount of points required to capture the Pokémon (excluding boss Pokémon).
** - This is the reaction of the Pokémon when players approach it.
Stats
Base Stats

HP

Atk

Def

Sp. Atk

Sp. Def

Speed

Total
Type effectiveness
Damage taken

Types

None
None
Note: If a type is not listed, it means it does normal damage to the Pokémon.
Learnset
Sprites
Appearances
Anime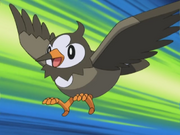 When Ash and Aipom had just came to Sinnoh and were searching for Pikachu, Ash's Aipom was swinging on some tree branches, it crashed into a flying Starly. Ash wanted to capture it; after it fought with Aipom, he caught it.
Petting Spots
Favored Spot: The crest.
Disfavored Spot: The beak.
Trivia
Origin
Starly is based on a White Cheeked Starling.
Etymology
Starly comes from starling.
Gallery
See also
Community content is available under
CC-BY-SA
unless otherwise noted.