Staravia (ムクバード Mukubaado) is a Normal/Flying-type Pokémon introduced in Generation IV and the evolved form of Starly.
Staravia evolves from Starly starting at level 14 and evolves into Staraptor starting at level 34.
Biology
Physiology
Staravia is a black and white Pokémon with a black "horn" on its head. It has one white feather just like Starly and the other two are black. It has a white splotch on its chest and face. It has an orange beak and three toed orange feet but the tip of its beak is black.
Gender differences
Male Staravia have bigger face stamps then the females.
Game data
Locations
Side Game Locations
Pokédex Entries
Side Game Data
Pokémon Ranger: Shadows of Almia
No.
Pokémon
Group
Field Move
Poké Assist
R-024
Staravia
Cut 2
Flying
Capture Points*
On Sight**
480
Chases player.
Browser Entry
It sends out twisters. It also rams to attack.
* - This is the amount of points required to capture the Pokémon (excluding boss Pokémon).
** - This is the reaction of the Pokémon when players approach it.
Stats
Base Stats

HP

Atk

Def

Sp. Atk

Sp. Def

Speed

Total
Type effectiveness
Damage taken

Types

None
None
Note: If a type is not listed, it means it does normal damage to the Pokémon.
Learnset
Sprites
Appearances
Anime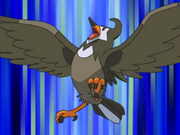 Ash's Starly evolves into Staravia when attempting to rescue all the Bird Pokémon, who is captured by the Team Rocket, and sends Team Rocket blasting off to the sky in A Staravia Is Born!
Petting Spots
Favored Spot: The crest.
Disfavored Spot: The beak.
Trivia
Origin
Staravia is based on a starling bird.
Etymology
Starvia comes from starling and avian.
Gallery
See also
Community content is available under
CC-BY-SA
unless otherwise noted.