Staraptor (ムクホーク Mukuhooku) is a Normal/Flying-type Pokémon introduced in Generation IV and the evolved form of Staravia.
Staraptor evolves from Staravia starting at level 34 and is the final evolution of Starly.
Biology
Physiology
Staraptor looks like a bigger version of Staravia, except that its feathers are now puffed up into a crest, its eyes have turned into sharp ovals with red pupils, and its comb has now flipped over its head and has red coloration sat the back.
Gender differences
Male Staraptor have bigger crest stamps then the females.
Natural abilities
Staravia have extremely powerful leg and wing muscles that can carry smaller Pokémon in its claws. It is implied to be a solitary Pokémon, leaving its Staravia flock behind when it evolves.
Much like Taillow, they are also very aggressive and persistent.
Game data
Locations
Side Game Locations
Locations
Game(s)
Area(s)
Explorers of Time & Explorers of Darkness
Mt. Mistral (1F-19F)
Pokémon Ranger: Shadows of Almia
Chicole Path, School Road, Vien Forest, Haruba Desert, Boyleland, Altru Park, Ranger Union, Ice Lake, Chroma Road, Chroma Highlands, Shiver Camp, Oil Field Hideout
Pokémon Rumble
Windy Prairie
Pokédex Entries
Side Game Data
Pokémon Ranger: Shadows of Almia
No.
Pokémon
Group
Field Move
Poké Assist
R-025
Staraptor
Fly
Flying
Capture Points*
On Sight**
777
No reaction.
Browser Entry
It creates gusts with its large wings to attack.
* - This is the amount of points required to capture the Pokémon (excluding boss Pokémon).
** - This is the reaction of the Pokémon when players approach it.
Stats
Base Stats

HP

Atk

Def

Sp. Atk

Sp. Def

Speed

Total
Type effectiveness
Damage taken

Types

None
None
Note: If a type is not listed, it means it does normal damage to the Pokémon.
Learnset
Sprites
Appearances
Anime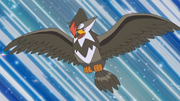 Petting Spots
Favored Spot: The crest.
Disfavored Spot: The feet.
Trivia
Origin
Staraptor is based on a starling bird and different birds of prey, possibly eagles, falcons, and hawks.
Etymology
Staraptor comes from starling and raptor (a term used for predatory birds).
Gallery
See also
Community content is available under
CC-BY-SA
unless otherwise noted.