Snubbull (Japanese: ブルー Buruu) is a Fairy-type (formerly Normal-type) Pokémon introduced in Generation II.
Biology
Physiology
Snubbull is a pink, blue spotted, bipedal canine that resembles a bulldog. Its four ears are tipped with black and there are fangs coming out of its mouth.
Behavior
Despite its rather intimidating appearance, Snubbull has a playful and affectionate personality, similar to the real-life bulldog, which makes it a popular pet among the women of the Pokémon world. Another of Snubbull's personality traits is its cowardice, which it tries to hide behind a gruff exterior.
Natural abilities
If it feels threatened, Snubbull can bare its fangs and make its appearance intentionally intimidating to terrorize smaller or weaker Pokémon into running away. However, Snubbull has also been observed to be a little sad at driving away potential friends like this.
Evolution
Snubbull evolves into Granbull at level 23.
Game info
Game locations
Pokédex entries
Stats
Base Stats
HP
Attack
Defense
Sp. Atk
Sp. Def
Speed
Total

300
Learnset
Leveling
TM/HM
Breeding
Tutoring
Sprites
Appearances
Anime
Snubbull first appeared in Pikachu's Vacation.
Trivia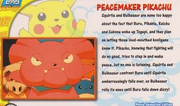 Snubbull was originally referred to as its Japanese name, Buru in West version; this can be seen in promotional trading cards for the first movie.
Origin
Snubbull might be based on a bulldog puppy. Its name also a combination of snub and bulldog, and a pun of snuggle. Its original Japanese name however, only shorten as bull, yet still befitting its bulldog motifs.
Gallery
See also
Community content is available under
CC-BY-SA
unless otherwise noted.