Raise a Floppa - The Loop
Play Sound
Skwovet (ホシガリス, Hoshigarisu) is a normal-type Pokémon introduced in Generation VIII.
Biology
Physiology
Skwovet is a small, slightly plump Pokémon that resembles a gray squirrel. True to the name of its species, it has round cheeks and a cheeky smile. It has an orange nose and orange "freckle" markings on the tops of its cheeks. Its fur is mostly tan, but the tip of its tail and ears are dark brown. It also has orange markings at the base of its ears, and the areas around its eyes and its somewhat engorged belly are pale brown. It has short arms and legs, thick, rounded thighs, and is somewhat chubby.
Behavior
Skwovet are very gluttonous and love to eat. In fact, they love to eat so much that they get uneasy if their cheeks are ever empty of Berries. They have a habit of attacking people who try to shake Berry Trees, worried about losing their food. They'll also show up on farms in an effort to collect even more Berries.
Habitat
Skwovet are commonplace in Galar, ranging from farms to trees in urban areas.
Diet
Skwovet love stuffing their mouths with Berries.
Evolution
It evolves into Greedent starting at level 24.
Game info
Game locations
Locations
Version(s)
Area(s)
Rarity
Sword and Shield
Route 1, Route 2, Route 3, Route 4, Route 5, Dappled Grove, Motostoke Riverbank, North Lake Miloch, Rolling Fields, Slumbering Weald, Watchtower Ruins


Max Raid Battle: Bridge Field, East Lake Axewell, Motostoke Riverbank, Rolling Fields, Stony Wilderness

Common
Pokédex entries
Sword

Found throughout the Galar region, this Pokémon becomes uneasy if its cheeks are ever completely empty of berries.

Shield

It eats berries nonstop—a habit that has made it more resilient than it looks. It'll show up on farms, searching for yet more berries.
Stats
Base Stats

HP

Atk

Def

Sp. Atk

Sp. Def

Speed

Total
Learnset
By leveling up
By TM
By TR
By breeding
Template:Movesbreedingen d
By tutoring
Skwovet learns no moves via tutoring.
Sprites
Anime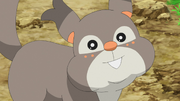 Main article: Goh's Skwovet
Skwovet appear in "The Climb to Be the Very Best!", where it was eating some of Ash and Goh's scones. Goh took this opportunity to catch it, making Skwovet the second Pokémon Goh caught in the Galar region.
Trivia
Despite its name, Skwovet can't learn the move Covet. However, its evolution learns the move upon evolving.
So far, every generation has had a rodent or rodent-like Pokémon with a two-stage evolution as one of the first Pokémon that can be encountered. These include Rattata/Raticate (Generation I), Sentret/Furret (Generation II), Zigzagoon/Linoone (Generation III), Bidoof/Bibarel (Generation IV), Patrat/Watchog (Generation V), Bunnelby/Diggersby (Generation VI), Yungoos/Gumshoos (Generation VII), and Skwovet/Greedent (Generation VIII).
Origin
Skwovet is based on a slightly chubby Eastern gray squirrel, an invasive species introduced into the UK. Its Shiny coloration may be based on the Red Squirrel.
Etymology
Skwovet is a combination of squirrel and covet (to want something really badly).
Its Japanese name, Hoshigarisu, is a combination of hoshigaru (to desire) and risu (squirrel).
Gallery