This article is missing an image.
Please help the Pokémon Wiki by adding one.
Route 203 is the east of Jubilife City. There are a few trainers on this map with many patches of tall grasses. To the east of this map, is the Oreburgh Gate which leads to Oreburgh City. To its west, is Jubilife City.
Pokémon Appearances
The higher the percentage, the higher the chance for the Pokémon to appear.
Items
| | | |
| --- | --- | --- |
| Item | Amount | Location |
| Poké Ball | 1 | Grass patch at west |
| Repel | 1 | Beside a pond. |
Trainers
Youngster Michael
Youngster Dallas
Lass Kaitlin
Youngster Sebastain
Lass Madelin
Events
Rival Battle #1
Your friend will battle with you when you first step onto Route 203. The highest level Pokémon that he has is of level 9. So, train your Pokémon till Level 11 to play safe.
His starter Pokémon is either Grass-Type Turtwig, Fire-Type Chimchar or Water-type Piplup, depending on your choice of your starter Pokémon.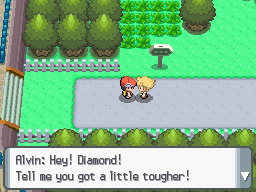 Quick Walkthrough
Route 203 → Oreburgh Gate → Oreburgh City → Oreburgh Mine → Oreburgh Gym → ...
Anime
This section is completely EMPTY!
Please help the Pokémon Wiki by expanding it.
Community content is available under
CC-BY-SA
unless otherwise noted.