Fire Emblem Warriors: Three Hopes - The Loop
Play Sound
It has been suggested that this article or section should be split
Pokémon (Colosseum) and Pokémon (GO)
Reason: Each appearance isn't the same.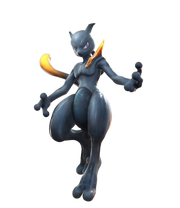 Shadow Pokémon are Pokémon whose hearts were corrupted and locked behind several "doors" keeping the light from their heart from shining through. Constant care and battle are needed to unlock the doors to the Pokémon's heart. After all the doors are unlocked the player can then purify the Pokémon using the Relic Stone in Agate Village or the Purification Chamber in the Pokémon HQ Lab. In battles, the shadowy aura buffets all Pokémon except those with the Shadow type.
Creation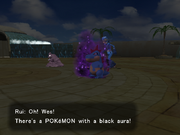 Cipher created each Shadow Pokémon from his lab located close to the center of the Orre region. In the lab, Ein tried to perfect the formula for a Pokémon that was not afraid to attack other trainers. Once he found out that each Pokémon's heart could be locked away, he used this to create the Shadow Pokémon, perfecting his formula. However, due to the amount of corruption flowing from the Pokémon, it is possible to tell the difference between a normal "Pure" Pokémon and a "Shadow Pokémon". Only certain eyes can catch the strange, dark aura coming from them. Cipher took the S.S. Libra in order to take the Pokémon onboard and take them to the Cipher Key Lair to turn them into Shadow Pokémon.
Strongest Shadow Pokémon
The "strongest" Shadow Pokémon is usually considered to be Shadow Lugia, given the code name XD001. Lugia, already being the strongest Pokémon ever captured by Cipher, it was turned into a Shadow Pokémon and was said to not be able to be purified. However, by having the Purification Chamber at high power (by filling up all nine chambers), Michael was able to purify the Pokémon.
Pokémon Go
In Pokémon Go, all of Team Go Rocket has shadow Pokémon. Shadow Pokémon have a shadow bonus applied to their attacks that increases the damage dealt. Shadow Pokémon in Pokémon Go have the charged attack Frustration, which does 10 damage, which not only is the least amount of damage of any charged attack in the game, but also does less damage than some fast attacks. Outside of some in-game events, Charged TMs can't remove Frustration.
Purification in Pokémon Go
Purifying a Shadow Pokémon in Pokémon Go has the following effects:
CP is increased to level 25. If the Shadow Pokémon has been powered up past level 25, it would stay at the higher level.
Amount of Stardust and Candy required to Power Up, evolve, or learn a new charged attack is reduced.
Frustration is replaced with Return. (In Trainer/Team Go Rocket Battles, Return has high power. In Gym battles/Raids, Return has a cooldown of only 0.7 seconds.)
All IV's of the purified Pokémon will increase by 2.
List of Shadow Pokémon
Pokémon types
Only exists within Generation II – IV:
· Only exists within Colosseum and XD:

Shadow