No Man's Sky Update - The Loop
Play Sound
Samurott (ダイケンキ, Daikenki) is the Water-type Pokémon of the Unova region, evolved from Dewott and Oshawott.
It has a Water/Dark Hisuian Form introduced in Generation VIII.
Biology
Physiology
Unovan
Samurott is a quadrupedal, aquatic mammalian Pokémon that resembles a sea lion. It is different to its previous evolutions, which were bipedal. It has a pointed nose, with large pale-blue mustache/goatee-like growths protruding from it, which it has developed from Dewott's whiskers and Oshawott's dimples. On the back of its head, Samurott has a large yellow conch shell with a very long horn with two spikes on it. It has a long dark-blue body with a light blue-gray belly and four legs with yellow armor-like shells divided into threes on them, those on its front legs are in fact where its swords, known as seamitars are stored. Its tail resembles that of a fish and is heart-like shaped with a small shell in the middle that makes it look like a deformed oval. Its eyes have reverted to how they were with Oshawott's as they are now white with colored pupils as opposed to Dewott's eyes, which were black with white pupils. Razor Shell can be thought as the signature move of Samurott along with its pre-evolutions if Shellder isn't counted.
Hisuian
Hisuian Samurott has dark colored armor with red accents and a jagged horn on its head. Its facial fur is wavier than its modern counterparts.
Behavior
Unovan
Samurott are famous for their valiant natures and fighting prowess. In spite of being a powerful creature that can defeat their opponents in the silence, Samurott are gentle and they mostly silently and dedicatedly root for their trainers. Their skilled fighting techniques have garnered them much respect ​in their coastal habitats; a single glare or roar from a Samurott is often enough to scare off enemies. They will never attack foes weaker than themselves, and they are known to help fend off attackers from smaller or younger Pokémon. Their selflessness natures and fearsome battling abilities have made them very popular among Unovan trainers.
Hisuian
However, Hisuian Samurott are harder of heart while also being deft of blade. They are notably more aggressive despite retaining loyalty for their trainers. Hisuian Samurott are in fact a stark contrast to their relatives. While Samurott are famed for their chivalry and selflessness when it comes to defending others, Hisuian Samurott are hard-hearted fighters that will ruthlessly do whatever it takes to get what they want. It is said that the solitude and harshness of Sinnoh's crashing waves toughened these Pokémon into becoming this way. They will not show mercy even when their foes yield, only ceasing their attacks once their enemies are completely incapacitated. They will not hold back against those smaller or weaker than themselves. Their horns are cruelly curved such their barbs gouge the flesh of their enemies when they strike. According to Sinnohan legend, these Pokémon butchered foes with such savagery that rivers of their enemies' blood left permanent stains on their shells.
In fact, although Hisuian Samurott tend to act silent and still, they won't hesitate to thrust their seamitars at their foes that carelessly approach them faster than the blink of a naked eye, proving that they will ruthlessly do anything to win.
Natural Abilities
Samurott are able to silence their opponents by glaring at them. They can also terrify opponents by howling, which can be heard from miles away. Unlike Oshawott and Dewott, Samurott can walk on all fours or presumably two as the shells on their forelegs are sheathed for two large swords.
Hisuian Samurott can cause turbulent blows akin to pounding waves that crash into their foes, effectively damaging said foes' bodies. They also specialize in cheap shots and surprise attacks with their seamitars being wielded fiercely and rapidly, scarring foes with wounds that cannot be healed for many years.
Evolution
Samurott evolved from Dewott starting from level 36. Samurott is the final evolved form of the starter Pokémon Oshawott.
Game Info
Pokédex Entries
Black

It beats opponents with one swing of the sword on its armour. It silences foes with one glare.

White

Part of the armour on its forefeet is a sword. It dominates foes just by howling.

Black 2

In the time it takes a foe to blink, it can draw and sheathe the seamitars attached to its front legs.

White 2

In the time it takes a foe to blink, it can draw and sheathe the seamitars attached to its front legs.

X

In the time it takes a foe to blink, it can draw and sheathe the seamitars attached to its front legs.

Y

One swing of the sword incorporated in its armor can fell an opponent. A simple glare from one of them quiets everybody.

Omega Ruby

In the time it takes a foe to blink, it can draw and sheathe the seamitars attached to its front legs.

Alpha Sapphire

One swing of the sword incorporated in its armor can fell an opponent. A simple glare from one of them quiets everybody.

Legends: Arceus

Hard of heart and deft of blade, this rare form of Samurott is a product of the Pokémon's evolution in the region of Hisui. Its turbulent blows crash into foes like ceaseless pounding waves.
Game Locations
Stats
Samurott's Stats
HP
Attack
Defense
Sp. Atk
Sp. Def
Speed
Total

352
Samurott's Stats
HP
Attack
Defense
Sp. Atk
Sp. Def
Speed
Total

365
Learnset
Leveling
TM/HM
Breeding
To see the Egg Moves that Samurott can learn, refer to Oshawott.
Tutoring
Sprites
Appearances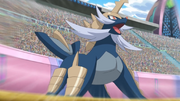 Anime
Supporting
Minor
Manga
Other
A Samurott is the area keeper of the Cove Area in PokéPark 2: Wonders Beyond. He's a valiant, wise, and noble warrior who believes that working together can accomplish much in life faster than one can do alone. Oshawott is his disciple. He assigns Oshawott to investigate the disappearance of the Pokémon in Wish Park.
Trivia
Samurott is the heaviest fully evolved

water

Starter Pokémon (excluding alternate forms of other Starter Pokémon).
Despite appearing to be quadrupedal, Samurott can stand on its hind legs in order to use its swords (seamitars).
It is the only fully evolved starter Pokémon not to be owned by any of the main characters of Pokémon Adventures.
According to designer Yusuke Ohmura, he was visiting a live otter exhibition searching inspiration for the Oshawott line when he saw a sea lion show nearby, which subsequently made him come up with the concept of Samurott.

In fact, he thought of Samurott first, prior to creating Oshawott.
Origin
Samurott is based on a sea otter with elements of samurai and sea lions. As the Unova starters are based on historical empires, Samurott is based on the Japanese Empire's samurais. Its tail might be based on Japan war fans (also named tessens), while its "helmet" is similar to Caltrop murex.
Hisuian Samurott may be based on a rōnin, which is a samurai without a lord or master to serve. The kanji 浪 from 浪人 (rōnin) literally means wave, which might have been the inspiration for Hisuian Samurott's Water type and wave-like designs all over its body. Being a rōnin was regarded as dishonorable in traditional samurai culture, and many of them end up becoming mercenaries. It may be based in on the corrupted version of samurai, who are drunk in power and very few people can stop them from committing tyranny on unarmed civilians, the red markings may be reference to blood markings found on samurai armors and helmets hence its secondary Dark-type.
The seamitars that Hisuian Samurott keeps on its arms resemble kris, Indonesian daggers with a distinct wavy blade.
Etymology
Samurott comes from samurai and otter.
Daikenki comes from 大 (dai, big), 剣 (ken, blade), 鬼 (ki, demon) and 剣鬼 (kenki, sword master or demon swordsman).
Names in other languages
Chinese: 大劍鬼 - same as Japanese name
German: Admurai
French: Clamiral
Gallery
Unovan Form
Hisuian Form
See also