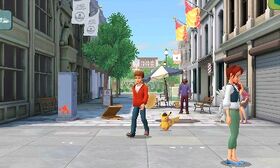 Ryme City is a large urban city that is the primary location in Detective Pikachu. The area is famous for it's annual Pokémon Carnival, a large festival that attracts attendees from across the world. The city featured a ferry service that connects the city to Cappucci Island. The city is also home to the Pokémon Comprehensive Laboratory, which researches Pokémon abilities.
Featured Areas
Baker Detective Agency
Central Square
GNN
Fine Park
Harry's Apartment
Hi-Hat Café
Litwick Cave
Ryme Wharf
Ryme University
Ryme Central Station
Ryme Botanical Garden
West Building
Community content is available under
CC-BY-SA
unless otherwise noted.