Fire Emblem Warriors: Three Hopes - The Loop
Play Sound
Rillaboom (ゴリランダー, Gorirandaa) is a Grass-type Pokémon that was introduced in Generation VIII.
Biology
Physiology
Rillaboom is a large, bipedal Pokémon that resembles a gorilla. It has dark brown fur, an orange muzzle, leafy "hair," and a "belt" made of leaves. Its body is mostly dark brown with gray markings on its chest, hands, shoulders, and feet. Its hands and feet are a light gray-brown, with its wrists sporting green leaf-like protrusions. It carries two drumsticks and a wooden drum that it hides in its hair.
Its Gigantamax form is the same except its wooden drum became a full drum set. Four vines extend from its leafy hair and play the drums.
Behavior
Rillaboom have a gentle nature and won't involve themselves in trivial fights. However, they are extremely sensitive to any actions that could risk the harmony around them, so they keep such actions strictly in check. Rillaboom have a strong sense of solidarity with others, and they will fight ferociously when their allies are in trouble. The Rillaboom who has displayed the best drumming technique becomes the leader.
Other Pokémon will congregate around performing Rillaboom to watch them drum and dance along. In Galarian folklore, it is said that as long as these Pokémon are drumming, the rules of nature are temporarily suspended, and predator and prey will dance together as companions. Trainers who prefer cooperation over competition and do not take life too seriously will find Rillaboom excellent companion Pokémon.
Gigantamax Rillaboom focuses completely on playing its drums, compelled by the power welling up inside it. The sound can reach across oceans and be heard by those living in other regions. It's said that those who hear the beat will begin to dance uncontrollably, overwhelmed by a rhythm that surges up from inside them.
Natural abilities
In battle, Rillaboom unleashes powerful sound waves with its drum and throws opponents about by controlling the roots of its stump. The skills it honed while it was a Thwackey are put on full display.
When undergoing Gigantamax, Rillaboom's tree-stump drum grows rapidly— to the point that it now resembles a small forest on its own. Gigantamax Rillaboom merges with the forest of drums and becomes even more powerful. It can control its sticks as if they were its own limbs, and it demonstrates transcendental drumming techniques.
Evolution
It is the final evolution of Grookey, evolving from Thwackey starting at level 35.
Game info
Game locations
Pokédex entries
Sword

By drumming, it taps into the power of its special tree stump. The roots of the stump follow its direction in battle.
Gigantamax: Gigantamax energy has caused Rillaboom's stump to grow into a drum set that resembles a forest.

Shield

The one with the best drumming techniques becomes the boss of the troop. It has a gentle disposition and values harmony among its group.
Gigantamax: Rillaboom has become one with its forest of drums and continues to lay down beats that shake all of Galar.
Stats
Rillaboom's Stats
HP
Attack
Defense
Sp. Atk
Sp. Def
Speed
Total

402
Learnset
Leveling
By TM
By TR
By breeding
To see the Egg Moves that Rillaboom can learn, refer to Grookey.
By tutoring
Sprites
Anime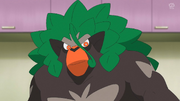 Rillaboom made its debut in PJ059 in Pokémon Journeys: The Series.
Trivia
Rillaboom is the first fully evolved Grass-type Starter Pokémon that is unable to learn Synthesis by any means. It is also unable to learn Belly Drum (despite being based off a gorilla and carrying around a drum) and Gunk Shot, despite many other ape-like Pokémon (including Chimchar and its evolutions, another ape-like Starter line) being able to do so.

Adding on to this, Rillaboom is also unable to learn any moves that counter Flying-types, not even Thunder Punch or Stone Edge (both of which Infernape's line could learn).

Despite being based on a gorilla, Rillaboom doesn't get Gorilla Tactics as its Hidden Ability (which would help with its shallow move pool). Galarian Darmanitan (a Pokémon based more around orangutans) gets the ability instead.
Origin
Rillaboom is based on a gorilla and a Taiko drummer, with its Gigantamax form more resembling a rock drummer kit. The fact that Rillaboom is a drummer is a reference to how real-world gorillas beat their chests when they're angry or acting territorial. It may also be a reference to the British rock band Gorillaz or the American rock band The Monkees. As Grass-type starters tend to be based on prehistoric animals, Rillaboom may also be based on Gigantopithecus.
As it's a gorilla-like Pokémon in a Nintendo-owned game that plays wooden drums, Rillaboom may also, to some degree, be based on the character Donkey Kong, who, throughout the various games in his series (many of which were developed by British game developer Rare), is associated with bongo drums.
The three fully evolved Starter Pokémon of Galar also each seem to represent a form of entertainment, with Rillaboom representing musical entertainment.
Etymology
Rillaboom is a combination of gorilla and boom (referring to a sound of a drum).
Gorirandā comes from "gorilla" and 乱打 (randa, battering).
Gallery
Template:GenVIIInav