World of Warcraft: Dragonflight - The Loop
Play Sound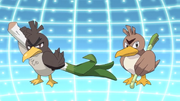 Regional forms, also called regional variants, is a concept introduced in Generation VII. Some species of Pokémon have migrated to other regions a long time ago from their region of origin; this has caused them to change their appearance and their type due to the change of environment. These Pokémon with different appearances and types, however, only live in the region they migrated to.
Forms
Alolan
These Pokémon with special forms are exclusive to Alola, consisting only of Pokémon introduced in Generation I.
Galarian
These Pokémon with special forms are exclusive to Galar, which consist not only from Generation I, but from beyond the said generation. They are widely known for having exclusively evolved forms for the said region's regional variant Pokémon.
Hisuian
These regional variants are only present in the Hisui region, consisting of Pokémon introduced in Generation I, II, V, VI, and VII. These forms were introduced after their respective regions' debuts, as Hisui is a version of the Sinnoh region from the distant past. It's unknown if these forms still exist in the modern Pokémon world.
In other media
Anime
Main
Recurring
Manga
This section is completely EMPTY!
Please help the Pokémon Wiki by expanding it.
Trivia
Before the concept of Regional Forms, the anime had Pokémon from the Orange Islands that look different than their normal forms. The TCG also had a similar concept in the Delta Species exclusive to the Holon region.
Some Pokémon, though not Regional Forms, have different forms depending on which region or location they live in. Some examples of these Pokémon are Arbok who changes its hood design, Mantyke who changes its back pattern, and Vivillon who changes its wing design.
Unlike their normal form counterparts, regional variants don't have gender differences.
Meowth is the only Pokémon to have two Regional Forms.
Slowpoke is the only Pokémon to lose a type upon becoming a regional forms and not gain another to replace it.
Slowbro is the only Pokémon who has both a Mega Evolution and a regional form.
As Generation VII consists only of regional variant counterparts of Generation I Pokémon, Generation VIII's regional form counterparts of previous Pokémon expands to beyond Generation I, e.g. the Zigzagoon line from Generation III.

Additionally, Generation VIII marks the first time for certain Pokémon's regional forms to have exclusive evolved forms than their normal counterparts. Obstagoon of Galarian Zigzagoon Evolution Line is the first example.

The

Dark

type has the most regional variants of any type, having 9 Pokémon.
Some regional forms are stated to be the original form of a Pokémon. For instance, Exeggutor are stated to have originated in Alola and Zigzagoon are stated to have originated in Galar.
In Pokémon Sun, Moon, Ultra Sun, and Ultra Moon, when a Pokémon evolves into a Regional Forms, the background is green instead of blue. When an Egg hatched into a Regional Variant, the background is blue instead of yellow.
Exeggutor was the first Alolan Form Pokémon ever created.

In fact, Game Freak loved it and it even inspired them to create all the other Alolan Forms.
This also paved way for the concept of Galarian Forms in Pokémon Sword & Shield.

Articuno, Zapdos, and Moltres are the only Legendary Pokémon to have regional forms so far.
So far, Slowpoke and its evolutions are the only Pokémon with a split evolution line to have a regional form.
So far, there are no regional forms of Pokémon from Generation IV.
So far, Slowbro is the only Pokémon able to Mega-Evolve with a regional form.

Unfortunately, this does not make its Galarian form Gigantamax.
Gallery
Kantonian
Johtonian
Hoennian
Unovan
Kalosian
Alolan
Galarian
Hisuian
Anime
Kantonian
Hoennian
Unovan
Kalosian
Alolan
Galarian
This article is a stub.
Please help the wiki by expanding it.
Pokémon Transformations and forms