Fire Emblem Warriors: Three Hopes - The Loop
Play Sound
The Razz Berry is a Berry introduced in Generation III.
Details
In-Battle EffectPE
After giving it to the wild Pokémon, it increases the chance of catching it for the next attempt only.
It has two stronger versions, namely Silver Razz Berry and Golden Razz Berry.

Berry Information
Description
Games
Description
RSE
POKéBLOCK ingredient. Plant in loamy soil to grow RAZZ.
FRLG
Can be ground up into powder as an ingredient for medicine.
DPPt
A Poffin ingredient. Bury it in soft soil to grow a Razz Plant.
HGSS
In the Sinnoh region, they like to make sweets known as Poffins with this Berry and feed them to their Pokémon.
BWB2W2
A Berry which is very rare in the Unova region. A maniac will buy it for a high price.
XY
A Berry to be used in cooking. This Berry is very rare and hard to obtain in the Unova region.
ORAS

---

SMUSUM

---

SWSH
Used to make Pokéblocks that will enhance your Coolness. Its red flesh is spicy when eaten.
PE
A Berry that makes it slightly easier to catch Pokémon when given to them.
Locations
Games
Location
RSE
Route 120
Route 111 south (from a girl)
Route 114 (can be given by a man daily)
FRLG
Route 4, Memorial Pillar
Berry Forest
DPPt
Route 205, Route 208, Route 210
Route 208 (can be given by the Berry Master)
Pal Park (can be given by earning 3300-3499 points)
HGSS
Fuchsia City (from a Juggler by giving him a Red Shardss)
ORAS
Route 120
Route 111 south (from a girl)
Route 114 (can be given by a man daily)
Sootopolis City (from

Kiri

)


Contest Hall

(can be obtained from a fan after completing a Contest)
PE
Route 1, Route 3, Route 4, Route 5, Route 17, Pallet Town, Viridian Forest, Celadon City
Rocket Game Corner (respawns daily as different items)
Any routes (from bushes by the player's walking Pokémon
Capture reward
Appearances
Pokémon GO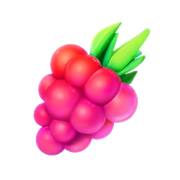 The Razz Berry appears in Pokémon GO as one of the few Berries in the game. In this game, the Razz Berry increases the chance of catching a wild Pokémon by 1.5, and this effect wears off if the Pokémon breaks free during a capture attempt.
Origin
The Razz Berry is based on the raspberry, which it also gets its name from. Its appearance is largely the same to real raspberries. Its ability to make opposing Pokémon easier to catch in games such as Pokémon GO and Pokémon: Let's Go, Pikachu! and Let's Go, Eevee! could reference how raspberries are good at attracting pollinators such as butterflies and bees.