World of Warcraft: Dragonflight - The Loop
Play Sound
Raboot (ラビフット, Rabifutto) is a fire-type introduced in Generation VIII.
Biology
Physiology
Raboot is a bipedal rabbit with a white head and red eyes. Its ears are long and point sideways and down, and three tufts of fluffy fur stick up from the top of its had. The bandage it had as a Scorbunny moves to its forehead, forming a headband pattern. Its eyes are red-orange with no visible pupils, and they give off a bored expression. It has red-orange fur resembling a turtleneck covering the lower half of its face, its arms, and its neck. Its body fur is mostly black, resembling a sweatsuit. Its front paws are white, and its back paws are red-orange. It has a small, round white tail.
Behavior
For most times, Raboot prefers putting its paws into its abdomen's fur, in order to prevent heat loss. It kicks berries around with its feet, practicing in order to learn its evolution's signature move, Pyro Ball, before swallowing the berry.
Natural Abilities
With thicker fur, Raboot can have a higher resistance against the cold. Its fluffy fur has also given it control over its fire powers and enables it to perform its attacks better within a brief period. Its feet and forehead have temperature rise that allow it to use fiery headbutts and kicks.
Evolution
Raboot evolves from Scorbunny starting at level 16 and evolves into Cinderace starting at level 35.
Game info
Game locations
Pokédex entries
Sword

Its thick and fluffy fur protects it from the cold and enables it to use hotter fire moves.

Shield

It kicks berries right off the branches of trees and then juggles them with its feet, practicing its footwork.
Stats
Base Stats

HP

Atk

Def

Sp. Atk

Sp. Def

Speed

Total
Learnset
By leveling up
By TM
By TR
By breeding
To see the Egg Moves that Raboot can learn, refer to Scorbunny.
By tutoring
Sprites
Anime
Main article: Goh's Cinderace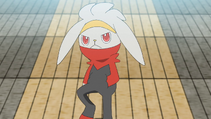 Raboot made its anime debut in PJ017, where it evolves from Goh's Scorbunny during their battle with Team Rocket. It then evolved into Cinderace.
Trainers with a Raboot
Trivia
Raboot is the lightest mid-evolution starter Pokémon.
Origin
Raboot is likely based on a rabbit and an athlete in a training uniform. Its association with soccer might be based on the superstitious belief of a rabbit's foot bringing good luck.
Etymology
Raboot is a combination of rabbit and boot or foot.
It's Japanese name, Rabifutto, comes from rabbit and foot.
In both languages, boot and foot are references to how soccer plays using only legs legally outside goal keeper rules.
Gallery