Popplio (アシマリ Ashimari) is a Water-type Pokémon. It is one of the three Starter Pokémon of the Alola region, the other two being Litten and Rowlet.
Biology
Physiology
Popplio is a blue sea lion Pokémon. It has large eyes, a long white snout with a pink round nose and black whiskers. It has two ears on each side of its head. Around its neck is a light blue ruff collar which extends out past its shoulders. It has four flippers which are the large ones with white markings isolating its toes and the small rear ones. It also loves to blow bubbles and bounce them around.
Behavior
Popplio will frequently work on blowing bubbles and try to get them larger than their bodies. Instead of walking, Popplio will generate and use their bubbles as a springboard, popping as they leap on top of them in order to get a bounce out of them as they pop, in turn allowing them to perform acrobatic stunts in their leaps to please those they enjoy playing with.
Natural abilities
It can blow out many balloons with its nose. It can swim at 25 mph (40 km/h).
Evolution
Popplio evolves into Brionne at level 17 and then Primarina at level 34.
Game info
Locations
Pokédex entries
Stats
Base Stats
HP
Attack
Defense
Sp. Atk
Sp. Def
Speed
Total

320
Learnset
Leveling
TM
Breeding
Breeding

Generation VII

Move
Father
Power
Accuracy
PP
Type
Category
Amnesia
Psyduck, Golduck, Slowpoke, Slowbro, Sentret, Furret, Wooper, Quagsire, Swinub, Piloswine, Slakoth, Slaking, Walrein, Wailord, Numel, Camerupt, Torkoal, Gorebyss, Bidoof, Bibarel, Pansear, Woobat, Swoobat, Heatmor
—
—%
20

Psychic

Status

Aqua Ring
Seel, Dewgong, Vaporeon, Marill, Azumarill, Corsola, Mantine, Milotic, Gorebyss, Tympole, Palpitoad, Seismitoad, Ducklett, Swanna, Alomomola, Dewpider, Araquanid
—
—%
20

Water

Status

Aromatic Mist
Smeargle
—
—%
20

Fairy

Status

Charm
Eevee, Snubbull, Granbull, Teddiursa, Phanpy, Skitty, Pachirisu, Buneary, Lopunny, Glameow, Purugly, Minccino, Deerling, Sawsbuck, Cubchoo, Furfrou, Meowstic, Dedenne
—
100%
20

Fairy

Status

Perish Song
Lapras, Politoed, Absol
—
—%
5

Normal

Status

Wonder Room
Psyduck, Golduck
—
—%
10

Psychic

Status

Bold indicates this Pokémon receives STAB from this move.
Italic indicates an evolved or alternate form of this Pokémon receives STAB from this move.
* indicates this move requires chain breeding.
◊ indicates the father must learn this move in a previous generation.
♈ indicates the father must learn this move via a TM.
Tutoring
Sprites
Appearances
Anime
Main article: Lana's Primarina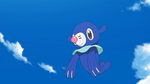 Popplio first appeared in
Alola to New Adventure!
under the ownership of
Lana
, later evolves into Brionne in
Evolving Research!
and into Primarina in
The One that Didn't Get Away!
.
Trivia
Popplio when standing on its fins bears some resemblance to the alchemic symbol of mercury (representing Water).
Origin
Popplio is a combination of the classical depictions of a performing sea lion and a circus clown, with the collar around its neck, white face, and nose resembling a clown nose. It could also be a reference to the Hawaiian monk seal.
Etymology
Popplio is a combination of pop (as in popping bubbles) and lio, the first three letters of lion in sea lion. It might also use "ilio-holo-i-ka-uaua" which is a species of Hawaiian monk seal. It might also come from pōpō, Hawaiian for ball (seeing how Popplio balances bubbles on its nose like a circus seal would do to a ball). It may also come from Popee the Performer, an obscure CGI anime centering around an aspiring clown.
Gallery