Pokkén Tournament is a fighting game developed by The Pokemon Company in collaboration with Namco Bandai Games. It was teased in August 2013 in a Japanese event. On August 26, 2014, it was officially announced by Famitsu.[1] It was released in Japanese arcades in July 16, 2015, and eventually released worldwide on the Wii U in March 18, 2016.
Gameplay
The game features the traditional arcade fighting style. Pokémon fight with the same moves they have in main series. They can also Mega Evolve. However, despite having gameplay from the Tekken series, characters from Tekken aren't featured or playable in the game.[2]
Characters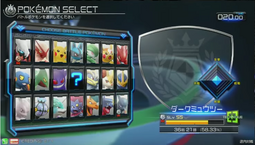 Playable
Supporting
Trivia
The name Pokkén is drived from Pokémon and Tekken. The game's logo is similar to Tekken Tag Tournament 2.
The fighting engine is somehow a combination of other 3-D arena-based fighting games, such as the Naruto Ultimate Ninja Storm series and Dissidia Final Fantasy.
The special attack combos are similar to Rage Arts from the upcoming Tekken 7.
Gallery
References