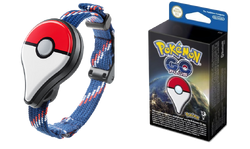 Pokémon GO Plus is an add-on device developed for Pokémon GO that is worn around the wrist. The device connects to the mobile phone, using a Blue tooth connection. The device allows players to participate in Pokémon GO activities without utilizing their phone directly.
It released September 16, 2016 in most countries, with the exception of a few South American territories later. [1]
Features
The Pokémon GO Plus blinks and vibrate depending on specific in-game critera, such as when the player approaches a PokéStop or encounters a wild Pokémon. When approaching a Pokestop, players can press the button to search the PokeStop for items, and add them into their inventories.
When a Pokémon is near, the light on the Pokémon GO Plus flashes. Once a Pokémon is close, players can press a button to throw a Poké Ball. Players are only able to use the Pokémon GO Plus to catch Pokémon if they have caught the Pokemon previously. Upon a successful catch, the device blinks and flashes once again. It is different colors too!
References
Community content is available under
CC-BY-SA
unless otherwise noted.