Arcane: League of Legends - The Loop
Play Sound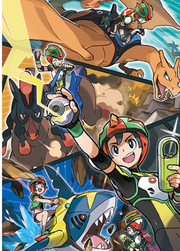 Poké Ride (ポケモンライド Pokemon Raido) is a game mechanic introduced in the Pokémon Sun and Moon games. To use it, the player needs a Ride Pager.
This feature replaces HMs, as well as some key items from previous generations, like the Bicycle and Dowsing Machine.
Information
Poké Ride is a feature that lets players ride Pokémon in certain places normal travel can't do. They can soar on Charizard, find hidden treasures with Stoutland, fish with a gentle Lapras and much more! Most of these ride Pokémon are rideable by pressing Y then B.
Rideable Pokémon
Gallery
Games
Anime
Manga
Concept art