Raise a Floppa - The Loop
Play Sound
Poipole (ベベノム, Bebenomu) (codenamed UB Adhesive) is a Poison-type Pokémon introduced in Generation VII. It is one of the Ultra Beasts introduced in Pokémon Ultra Sun and Ultra Moon.
Biology
Physiology
Poipole is a purple and dark pink alien-like creature with a big head. It has 3 lavender needle-like horns on its head and cyan eyes. Its mouth is small. It has small arms and its neck is extremely skinny. Poipole has stout, short legs with small feet and a very long tail.
Behavior
Poipole are emotional and one can gain the ability to understand human languages if it lives with humans for a long period.
As Poipole are very curious not knowing about the human world, they can be mischievous at times. They greet others by squirting ooze or spinning upside down on their heads.
They can use their ooze to make paintings of Pokémon they like as a sign of friendship or express how they feel.
Evolution
Poipole evolves into Naganadel when leveled up after learning Dragon Pulse.

Game info
Game locations
Pokédex entries
Ultra Sun

This Ultra Beast is well enough liked to be chosen as a first partner in its own world.

Ultra Moon

An Ultra Beast that lives in a different world, it cackles wildly as it sprays its opponents with poison from the needles on its head.
Stats
Poipole's Stats
HP
Attack
Defense
Sp. Atk
Sp. Def
Speed
Total

420
Learnset
Leveling
TM
Breeding
Poipole learns no moves via breeding.
Tutoring
Sprites
Appearances
Anime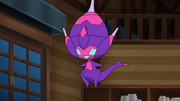 Main article: Ash's Poipole
Ash caught a Poipole in Love at First Twirl!, where it befriend his Pikachu. Ash later released Poipole so it can say in its homeworld. However, It later return in Z-Move Showdown! where it was revealed it had evolved into Naganadel and help Ash with the Ultra Beast crisis at the Manalo Conference
Trivia
Early leaks for Poipole and its evolution were leaked. An article can be found here.
Poipole is the only Ultra Beast that is capable of evolution.
It is stated that, in its "own world", Poipole are used as a common Starter Pokémon.
Poipole has the lowest BST of all Ultra Beasts.
Poipole is one of the ten Pokémon that evolves upon knowing a move. In this case, it needs to know the move Dragon Pulse.
Origin
Poipole may be based on a stereotypical alien as they are often shown to be one or two shades of color, have oval-shaped eyes with no pupils and a giant head. Its ability to sting and deliver toxic liquids may be a reference to wasps or syringes. Its head also slightly represents a blooming flower bulb, possibly referencing sci-fi plants that are known to shoot acid from their bulbs.
Etymology
Poipole is a combination of the words poison (referring to its type) and tadpole (referring to its youthful state). It may also come from the word purple (referring to its color) spoken in a New York or New Jersey accent.
Bebenomu comes from bébé (French for "baby") and venom.
Gallery
Ultra Beasts
Generation VII

·
·
·
·
·
·
·
·
·