Raise a Floppa - The Loop
Play Sound
Pidgey (ポッポ, Poppo) is a Normal/Flying-type Pokémon introduced in Generation I.
Biology
Physiology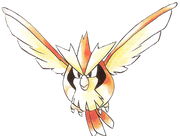 Pidgey resembles a small, plump-bodied bird. It is brown in color, with a cream-colored throat and belly. The tips of its wings share the same color. Both its feet and beak are a pinkish-gray color. Its plumage is fairly nondescript, particularly compared to its evolutions, Pidgeotto and Pidgeot. It has black markings around its eyes and a small crest of brown and cream feathers above its eyes.
It resembles other small flying-type Pokémon, such as Starly, Taillow, and Spearow. However, due to the fact that this Pokémon tend to be unique to a region, with the exception of Spearow, it is likely that they are a result of convergent evolution.
Behavior
Pidgey are very docile Pokémon that prefer to avoid confrontation with other Pokémon and humans altogether, hiding in tall grass to prevent themselves from being seen. If cornered, though, they will attempt to escape by using Sand Attack to blind foes or Whirlwind to blow them away and buy themselves time to fly away. When hunting, however, Pidgey often use these attacks to stir up their surroundings, exposing vulnerable insects for them to chase down.
These Pokémon have extremely keen senses of direction. They can always find their way back to their nests regardless of how far they have flown. Because of this, Pidgey were commonly used to send messages in the Kanto and Johto regions (much like the Wingull of Hoenn), at least until the advent of e-mail. Many Pidgey have grown accustomed to and now dwell in urban areas due to this practice, flying to forests and fields only to hunt for food before returning to their nests in cities. Some people still train Pidgey to deliver messages as a way of preserving tradition.
Natural abilities
When on the ground, Pidgey flaps its wings to kick up sand and dust that blinds its opponents. It has an excellent sense of direction and homing instincts. It can locate its nest even when far removed from familiar surroundings. These skills enable it to be easily trained to deliver messages.
Pidgey are shown to be prey for Pokémon such as Meowth. Their eggs are often the victim of hungry Ekans.
Evolution
Pidgey evolves into Pidgeotto starting at level 18, and from Pidgeotto, evolves into Pidgeot starting at level 36.
Game info
Locations
Locations
Version(s)
Area(s)
Rarity
Red and Blue
Routes 1, 2, 3, 5, 6, 7, 8, 12, 13, 14, 15, 21, 24, 25
Common
Yellow
Routes 1, 2, 5, 6, 7, 8, 11, 12, 13, 21, 24, 25, Viridian Forest
Common
Gold and Silver
Routes 1, 2, 5, 25, 29, 30, 31, 32, 34, 35, 36, 37, National Park
Common
Crystal
Routes 1, 2, 5, 25, 29, 30, 31, 35, 36, 37, National Park, Ilex Forest
Common
Ruby and Sapphire
Trade
None
FireRed and LeafGreen
Routes 1, 2, 5, 6, 7, 8, 11, 12, 13, 21, 24, 25, Viridian Forest, Bond Bridge, Berry Forest, Five Isle Meadow
Common
Emerald
Trade
None
Diamond and Pearl
Route 229
Swarm
Platinum
Route 229
Uncommon
HeartGold and SoulSilver
Routes 1, 2, 5, 6, 25, 29, 30, 31, 35, 36, 37, National Park, Viridian Forest
Common
Black and White
White Forest (White only)
Common
X and Y
Routes 2, 3
Common
Omega Ruby and Alpha Sapphire
Breed Pidgeotto or Pidgeot
None
Sun and Moon
Trade from Ultra Sun/Ultra Moon
None
Ultra Sun and Ultra Moon
Breed Pidgeot
None
Let's Go, Pikachu! and Let's Go, Eevee!
Routes 1, 2, 5, 6, 7, 8, 11, 12, 13, 21, 24, 25, Viridian Forest
Common
Sword and Shield
Trade
None
Spin-off game locations
Pokédex entries
Stats
Pidgey's Stats
HP
Attack
Defense
Sp. Atk
Sp. Def
Speed
Total

251
Learnset
Leveling
TM/HM
Egg Moves
Tutoring
Sprites
Appearances
Anime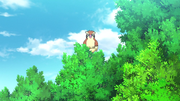 Pidgey often appear in the anime series. They debuted in the first episode, Pokémon - I Choose You!, where Ash had attempted to catch one without Pikachu's help. He later mistook a Spearow for a Pidgey, which caused a flock of Spearow to chase after him.
Pidgey later appeared as the main Pokémon in Fly Me to the Moon, where Ash and friends find an island of fat Pidgey that could not fly.
Trivia
Pidgey are often seen flying in small flocks in the anime.
Pidgey is the first Pokémon in the National Pokédex order to have 2 abilities.
Pidgey is the first

Normal

-type Pokémon in the National Pokédex.
Pidgey was officially going to be named "Pidge".
Pidgey has the same cry as Jigglypuff, except Pidgey's cry is a little lower and quicker.
Pidgey has the shortest cry of all Pokémon.
In "PJ023", Pidgey enjoy taking sand or dust baths; this behavior is also observed in many real-world birds.
Despite its name, Pidgey has little resemblance to pigeons.
Earlier artwork depicting Pidgey showed it with four toes (three in the front and two in the back), but later artwork only shoes three toes (two in the front and one in the back).
Origin
Pidgey is based on an Old World sparrow, most likely the Eurasian tree sparrow, a common bird in Japan.
Etymology
Pidgey may come from the words pigeon and pudgy (something plump and miniature, usually the former).
Name in other languages
Japanese: ポッポ (Poppo in Romaji) from the Japanese onomatopoeic word poppo (ぽっぽ) which means coo.
English: The name "Pidgey" is a play on the word "pigeon", the name of a common bird.
French: "Roucool" is a pun using the words "roucouler" (to coo) and "cool" (cool).
Gallery
See also