Fire Emblem Warriors: Three Hopes - The Loop
Play Sound
Pidgeot (Japanese: ピジョット Pijotto) is a Normal/Flying-type Pokémon introduced in Generation I. It is the evolved form of Pidgeotto, and the final evolution of Pidgey.
Biology
Physiology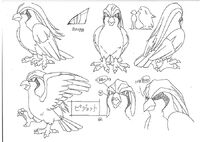 Pidgeot resembles a large, feathery bird with huge wings. It has a brightly colored crest and tail.
Many trainers are drawn to Pidgeot because of its lovely feathers. The beautiful colors of its crest are particularly striking.
It is easily confused with Pidgeotto because the only difference without a relative size comparison is that Pigeot's tail and crest coloring switch from those of Pidgeotto's.
Behavior
Pidgeot is even more dangerous than its previous evolutionary stage. This is because it is bulkier and more aggressive than Pidgeotto, enabling it to catch much bigger prey. A favorite target is Magikarp, which Pidgeot can spot from a great distance. Trainers should be very careful when approaching this Pokémon in the wild.
While still territorial, they no longer attack others for simply entering their turfs; rather, they wait and use their keen eyesight to watch from far away, seeing whether their intruders have ill intentions. If they are not endangering the Pokémon or their offspring, they will leave them be. However, they will defeat potential threats without hesitation using their powerful chest muscles to whip up windstorms strong enough to bend tall trees.
When approached, Pidgeot will spread out their wings to intimidate foes. If the tactic fails, they will quickly resort to flapping their wings to create powerful gusts before attacking with their talons. The beautiful, glossy feathers on their heads are symbols of speed in popular culture.
Natural abilities
Pidgeot is a powerful flier, capable of creating whirlwinds strong enough to bend trees. At maximum velocity, it can reach speeds of Mach 2 (around 1522.2 mph). Pidgeot can also fly faster than Staraptor if it wants to. With its powerful claws and strength, it can pick up almost any foe.
When Mega Evolved, its muscles are even stronger now, allowing it to fly for two weeks nonstop.
Evolution
Pidgeot evolves from Pidgeotto starting at level 36. Pidgeot can further evolve into Mega Pidgeot using the Pidgeotite.
Game Info
Game Locations
Side Game Locations
Pokédex entries
Stats
Pidgeot's Stats
HP
Attack
Defense
Sp. Atk
Sp. Def
Speed
Total

341
Pidgeot's Stats
HP
Attack
Defense
Sp. Atk
Sp. Def
Speed
Total

331
Mega Evolution
Pidgeot's Stats
HP
Attack
Defense
Sp. Atk
Sp. Def
Speed
Total

366
Learnset
Leveling
TM/HM
Egg Moves
To see the Egg Moves that Pidgeot can learn, refer to Pidgey.
Tutoring
Sprites
Mega Evolution Sprites
| | |
| --- | --- |
| Front | Back |
| Front (Shiny) | Back (Shiny) |
Appearances
Anime
Main
Supporting
Minor
Trivia
It is the first second Stage bird Pokémon in Pokédex order.
Despite the fact its official height is only slightly higher than 4 feet, in the anime Pidgeot is almost always depicted as larger than the average human being. Ash's Pidgeot is the size of a horse and can carry Ash's weight, but in an episode of Pokémon: Battle Frontier the Pidgeot aiding Ash is only big enough to carry Pikachu on its back. However, both Pidgeot could have different lifestyles, despite living in the same district.
Pidgeot's original beta name was Pidgeott.
Mega Pidgeot is the only Pokémon with a total base stat of 579.
Mega Pidgeot ties with Porygon-Z for the highest Special Attack of all Normal-type Pokémon.
Despite Pokédex entries claiming it can fly at Mach 2 speeds, Pidgeot only has a base Speed of 101 (as of Pokémon X/Y), which is also slower than Talonflame. This remains so even after Mega Evolving when it's Speed rises to 121.
Despite its name, Pidgeot has little resemblance to pigeons.
Origin
Pidgeot shares characteristics with birds of prey. Its shiny form is possibly a Golden Eagle.
Etymology
Pidgeot may come from the words pigeon and a corruption of the word jet. It may also take a similar inspiration to its pre-evolution, Pidgeotto, where part of its name could be interpreted as relating to Otto Lilienthal, a German aviation pioneer that studied flight.
Names in other languages
Japanese: ピジョット(Pijiyotto in Romaji)is probably a combination of a pronunciation of the word "pigeon" and "jet".
English: Like its pre-evolved forms, Pidgeots' name comes from pidgeon.
Gallery
See also
Generation I Pokémon
See also

Generation II

·

Generation III

·

Generation IV

·

Generation V

·

Generation VI

·

Generation VII

·

Generation VIII

Generation I