Fire Emblem Warriors: Three Hopes - The Loop
Play Sound
Passimian (ナゲツケサル, Nagetsukesaru) is a fighting-type Pokémon introduced in Generation VII. It is exclusive to Pokémon Sun.
Biology
Physiology
Passimian is a black and white lemur-looking Pokémon with a muscularly burly build. Its muzzle, upper body, hands, feet, ankles and tail are black, while the rest of its body parts are white. It usually wears a pale green helmet with orange blaze and protruded green leaves, which partially obscures its eyes that have yellow sclerae and orange irises. There is always a vertical and horizontal leaf on its shoulders and chest, which are glued onto its body with its own saliva. It is mostly seen carrying a coconut-looking fruit.
Behavior
Passimian dwell in troops of 20 to 30 individuals. They are led by a "boss" Passimian, who fashions an arm marking of leaves that all other Passimian in the troop will bear to distinguish themselves; the leaves are stuck on using dried saliva.
These Pokémon excel when it comes to teamwork. Bosses will select 10 of the fittest members to accompany them as they search for Berries; this is done on a case-by-case basis, so Passimian must constantly train themselves to stay in peak condition. Each Passimian in a team performs a particular assigned role when foraging. Bosses will also routinely conduct training exercises in which troop members must pass Berries to one another both quickly and accurately. The Passimian that can throw a Berry the farthest is the de facto leader. These sessions are often long and laborious; some Passimian even end up running away because they are unable to handle the pressure.
Passimian lob Berries at foes to defend themselves. They use soft ones to obscure their vision and hard ones to batter and bruise them. Troop members will never leave a comrade behind. Most bosses pass down special techniques from generation to generation. Domesticated Passimian watch their trainers closely as they throw their Poké Balls; they look down on those with poor form.
Natural abilities
Game info
Locations
Pokédex entries
Sun

They form groups of roughly 20 individuals. Their mutual bond is remarkable—they will never let down a comrade.

Moon

They battle with hard berries for weapons. Their techniques are passed from the boss to the group, generation upon generation.

Ultra Sun

They use their saliva to stick leaves to their shoulders. You can tell what troop they belong to from the position of the leaves.

Ultra Moon

Berries are its weapons as well as the staple of its diet. The one that can throw a berry the farthest is the boss of the troop.

Sword

Displaying amazing teamwork, they follow the orders of their boss as they all help out in the search for their favorite berries.

Shield

Passimian live in groups of about 20, with each member performing an assigned role. Through cooperation, the group survives.
Stats
Passimian's Stats
HP
Attack
Defense
Sp. Atk
Sp. Def
Speed
Total

490
Learnset
Leveling
TM
Breeding
Breeding

Generation VII

Move
Father
Power
Accuracy
PP
Type
Category
Feint
Pikachu, Meowth, Meowth, Persian, Persian, Farfetch'd, Seviper, Kecleon, Absol, Monferno, Infernape, Stunky, Skuntank, Lucario, Chesnaught
30
100%
10

Normal

Physical

Iron Head
Sandshrew, Diglett, Dugtrio, Mawile
80
100%
15

Steel

Physical

Quick Attack
Rattata, Rattata, Raticate, Raticate, Pikachu, Raichu, Raichu, Vulpix, Ninetales, Rapidash, Eevee, Vaporeon, Jolteon, Flareon, Espeon, Umbreon, Leafeon, Glaceon, Sylveon, Cyndaquil, Quilava, Typhlosion, Sentret, Furret, Sneasel, Weavile, Torchic, Combusken, Blaziken, Electrike, Manectric, Zangoose, Absol, Pachirisu, Buizel, Floatzel, Buneary, Lopunny, Lucario, Blitzle, Zebstrika, Emolga, Bunnelby, Diggersby, Lycanroc
40
100%
30

Normal

Physical

Quick Guard
Lucario, Mienfoo, Meowstic, Lycanroc
—
—%
15

Fighting

Status

Seismic Toss
Mankey, Primeape
—
100%
20

Fighting

Physical

Vital Throw
Pancham, Pangoro
70
—%
10

Fighting

Physical

Bold indicates this Pokémon receives STAB from this move.
Italic indicates an evolved or alternate form of this Pokémon receives STAB from this move.
* indicates this move requires chain breeding.
◊ indicates the father must learn this move in a previous generation.
♈ indicates the father must learn this move via a TM.
Tutoring
Sprites
Appearances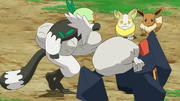 Trivia
Origin
Passimian seems to be based on lemurs, most likely the sifaka, while also sharing traits with monkeys and baboons. It also incorporates themes of American football players.
Etymology
Passimian comes from pass (as to pass a ball) and simian or prosimian (a group of primates that includes lemurs).
Gallery
Generation VII Pokémon
Other Pokémon:

Kanto

•

Johto

•

Hoenn

•

Sinnoh

•

Unova

•

Kalos

•

Galar