Pancham (ヤンチャム Yanchamu) is a Fighting-type Pokémon introduced in Generation VI.
Biology
Physiology
Pancham is a little panda Pokémon. It has a black and white fur and has a green leaf sticking out of its mouth. It resembles Cubchoo and Teddiursa in that all three are bears in appearance.
Behavior
Pancham is always seen with its signature leaf in its mouth. To Pancham, the leaf may be able to show others that it can also be intimidating; as most intimidating people unusually chew on some kind of leaf. It seems to always glare intensely at the opponents, but since it's young, this act isn't persuasive at all and rarely succeeds, thus it always gets easily disappointed. However, when it gets stroked on the head, it will suddenly show a face full of joy and kindness.
Evolution
Pancham can be evolved into a Pangoro at level 32 while a Dark-type Pokémon is in the player's party.
Game info
Game location
Pokédex entries
Stats
Base Stats
HP
Attack
Defense
Sp. Atk
Sp. Def
Speed
Total

348
Learnset
Leveling
TM/HM
Breeding
Tutoring
3D Models
Appearances
Anime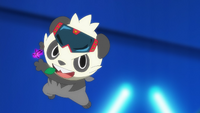 Main article: Serena's Pancham
Two Pancham made a debut appearance in The Bamboozling Forest!.
A Pancham appeared under the ownership of Myron.
Serena caught a Pancham that has a desire to perform in Pokémon Showcases.
Trivia
Pancham is the second Pokémon to be based on a Panda, the first being Spinda.
Pancham actually looks like a Panda physically and in coloration, unlike Spinda, which looks more like a spotted rabbit.
Pancham and Riolu are the only pure

Fighting

-type Pokémon whose evolved form is not a pure

Fighting

-type, but instead a 

Fighting

and 

Steel

or

Dark

.

Ironically, this makes them weak to their primary type.

Pancham, along with Mantyke, is the only Pokemon to require a certain type of Pokemon to be in the party in order to evolve (Pancham needs a

Dark

type in the party in order to evolve).
Pancham is one of the 16 Pokemon to be made into a puppet in Japan.
Origin
Pancham is based on a baby panda.
Etymology
Pancham's name comes from the animal panda and champion.
The Japanese name Yancham on the other hand, is based on the character trait yancha or very active.
Gallery