Raise a Floppa - The Loop
Play Sound
Noivern (オンバーン, Onbaan) is a Flying/Dragon-type Pokémon introduced in Generation VI.
Biology
Physiology
Noivern is a large, draconian bat-like Pokémon. Noivern stands upright on its two clawed feet when it isn't flying. Its body is mainly purple and black in color. It has large, black and purple wings, which bear three red, claw-like protrusions at their tips each. The thin flaps of skin connecting Noivern's wings to its body are green in color. It has a fluffy white collar of fur encircling the lower portion of its neck. Its underbelly is purple while its back and extremities are black, with red claws. Noivern has piercing yellow eyes and v-shaped eyebrow-like features. Its mouth has two pointed black features just below its nostrils. Its ears, which resemble loudspeakers, are very large and rounded with green insides.
Behavior
Noivern has an aggressive temperament and will ruthlessly taunt its opponents in the dark. Supposedly, it will attack anything that wanders too close to it. Enemies that are weakened by the sound waves are dealt with the finishing blow by Noivern's fangs. However, Noivern can be tamed by trustworthy trainers if given a fruit to eat.
They communicate warnings to other Noivern about territorial boundaries using sonar; those unfortunate enough to be caught between two conflicting Noivern may sometimes faint from dizziness.
These Pokémon are omnivores, despite having fearsome appearances, and enjoy eating many different kinds of fruits and berries—they seem to have a particular affinity for Persim Berries.
Abilities
It emits an explosive sound wave that attacks all nearby enemies and allies. The ultrasonic sound waves Noivern emits are strong enough to shatter large boulders.
Evolution
Noivern evolves from Noibat at level 48.
Game info
Game locations
Pokédex entries
Stats
Noivern's Stats
HP
Attack
Defense
Sp. Atk
Sp. Def
Speed
Total

535
Learnset
Leveling
TM/HM
Breeding
To see the Egg Moves that Noivern can learn, refer to Noibat.
Tutoring
3D Models
Appearances
Anime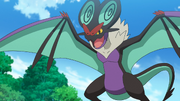 Ash's Noibat evolved into Noivern while saving Hawlucha from falling into a ravine and battling the Legendary Pokémon, Zapdos in An Electrifying Rage!
Trivia
Noivern and its pre-evolution, Noibat, are the first dual-typed Pokémon to have the -type as their primary typing.
Origin
Noivern is based on a wyvern and a bat, possibly a leaf-nosed bat or fruit bat due to its design resembling them. Its ears also resemble a bass speaker or a treble speaker. It may be based on the concept of bats using echolocation to move around, a form of communication that involves sound.
Etymology
Noivern comes from 'noise and wyvern (a type of dragon).
Its Japanese name, Onbān, is a portmanteau of 音 (on, sound), onpa (sound wave), bat, and ワイバーン (waibān, wyvern).
Gallery