This article or section is out of date.
Reason: "Beyond AG for anime and Beyond BW Arc. for manga".

Please help the Pokémon Wiki by updating it.
This article or section requires a cleanup in order to meet
the Pokémon Wiki's quality standards.
Reason: Everything should be in separate lists and should also have images for reference.
Please consider editing this page to improve it.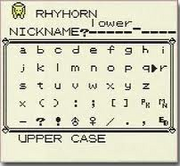 Nicknames serve the same purpose in the Pokémon Universe as they do in reality: to allow us to know a person by something other than their real name, which can also show our bond to that person. It is possible to change a Pokémon's nickname by the Name Rater. Many nicknames for Pokémon have been seen, from both the show and from the video games. Some nicknames bear an obvious resemblance to the original name of the Pokémon, and others are more creative. In the video games, a nickname may only be up to 10 characters long. Traded Pokémon cannot be nicknamed.
Nicknames in the Games
Main series
Known nicknames in the Anime
Nicknames in the Manga
Pokémon Adventures
Red's Venusaur, Saur
Red's Poliwrath, Poli
Red's Snorlax, Lax/Snor
Red's Espeon, Vee
Red's Aerodactyl, Aero
Red's Gyarados, Gyara
Green's Jigglypuff, Jiggly
Green's Ditto, Ditty
Green's Clefairy, Cleffy
Green's Nidoking, Nido
Yellow's Dodrio, Dody
Yellow's Golem, Gravvy
Yellow's Omastar, Omny
Yellow's Butterfree, Kitty
Yellow's Pikachu, Chuchu
Mr. Briney's Wingull, Peeko
Gold's Typhlosion, Exbo
Gold's Politoed, Polibo
Gold's Sunflora, Sunbo
Gold's Sudowoodo, Sudobo
Gold's Togekiss, Togebo
Gold's Mantine, Tibo
Crystal's Hitmonlee, Monlee
Crystal's Smoochum, Chumee
Crystal's Arcanine, Archy
Crystal's Parasect, Parasee
Crystal's Cubone, Bonee
Crystal's Xatu, Xatee
Ruby's Delcatty, Kiki/Coco
Ruby's Mightyena, Nana
Ruby's Castform, Fofo/Popo
Ruby's Milotic, Feefee/Mimi
Ruby's Gardevoir, Rara/Ruru
Sapphire's Blaziken, Chic/Toro
Sapphire's Donphan, Phado/Dono
Sapphire's Tropius, Troppy/Pilo
Sapphire's Gallade, Kirly/Kiruru
Diamond's Munchlax, Lax
Diamond's Bastiodon, Don
Diamond's Lickilicky, Kit
Diamond's Mamoswine, Moo
Diamond's Regigigas, Gi
Pearl's Chatot, Chatler
Pearl's Buizel, Zelhiko
Pearl's Luxray, Rayhiko
Pearl's Diglett, Dighiko
Pearl's Tauros, Tauhiko
Black's Musharna, Musha
Black's Galvantula, Tula
Black's Tirtouga, Goura
Black's Braviary, Brav
Community content is available under
CC-BY-SA
unless otherwise noted.