Raise a Floppa - The Loop
Play Sound
For the variant appearing in the games, see Mr. Backlot.
This article is missing an image.
Please help the Pokémon Wiki by adding one.
Mr. Backlot is a character appearing in Pokémon: DP Battle Dimension.
Appearance
This section is completely EMPTY!
Please help the Pokémon Wiki by expanding it.
Personality
Mr. Backlot is a very hospitable man. He takes good care of his Pokémon, as well as any visitor that comes to his mansion.
Biography
Pokémon the Series: Diamond and Pearl
When the heroes arrived to a mansion, they were greeted by its owner, Mr. Backlot, and his maid, Monica. He offered them hospitality, giving them food as he did to his Pokémon, like Pichu, Cleffa, Igglybuff or Azurril. When a Swinub came, it ate their food, causing the Pokémon to become angry, until the maid gave them more food. Mr. Backlot explained that Swinub was from the neighboring forest, and came occasionally to eat and play. Per his request, the heroes remained at his mansion for a day. The next day, when Team Rocket came to steal the Pokémon, Mr. Backlot and the rest arrived, witnessing Dawn, Piplup, Pikachu and Swinub working together to battle them. Dawn was pleased with Swinub's efforts, and offered it to come with her, a proposal Swinub accepted. Mr. Backlot was a bit saddened, for he had grown attached to Swinub, but Dawn promised to visit him as she went with her friends to Celestic Town.[1]
Pokémon
Taking care of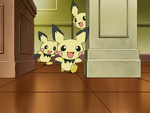 Pichu (3x) *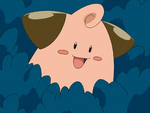 Cleffa *

Igglybuff (2x) *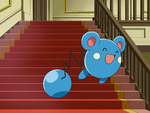 Azurill *
Took care of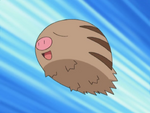 Swinub *
See also
References