Milcery (マホミル Mahomiru) is a fairy-type introduced in Generation VIII.
Biology
Physiology
Milcery is a small, white Pokémon made of cream. It is simplistic in appearance, with stubby arms and white eyes with no visible pupils. Drops of liquid are seen splashing from its head.
Behavior
Game info
Game locations
Pokédex entries
Sword

This Pokémon was born from sweet-smelling particles in the air. Its body is made of cream.

Shield

They say that any patisserie visited by Milcery is guaranteed success and good fortune.
Stats
Base Stats

HP

Atk

Def

Sp. Atk

Sp. Def

Speed

Total
Learnset
By leveling up
By TM
By TR
By breeding
Generation VIII

Move

Type

Category

Power

Accuracy

PP
Baby-Doll Eyes

Status

—
100%
40
Parent Candidates:
Last Resort

Physical

140
100%
5
Parent Candidates:
Bold indicates that this Pokémon receives

STAB

from this move.
Italic indicates that an evolved or alternate form of this Pokémon receives

STAB

from this move.
* indicates this move requires chain breeding.
◊ indicates the father must learn this move in a previous generation.
♈ indicates the father must learn this move via TM.
By tutoring
Milcery learns no moves via tutoring.
Sprites
Anime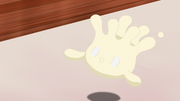 Main
Trivia
Origin
Milcery is based on cream or milk. It may have been inspired by the tradition of leaving milk outside to appease certain fairies. Milcery being entirely female may refer to the fact that milk is typically only produced by female mammals.
Etymology
Milcery may come from the words "milk", "sorcery", and "creamery". It may also come from "mercury", an element that is often liquid in substance and moves similarly to Milcery. It is also known to mix with other elements, similar to how Milcery mixes with whatever ingredients it holds. This is further seen in its Shiny coloration, where it is more white and gray.
Its Japanese name, Mahomiru, comes from maho (magic) and "milk".
Gallery